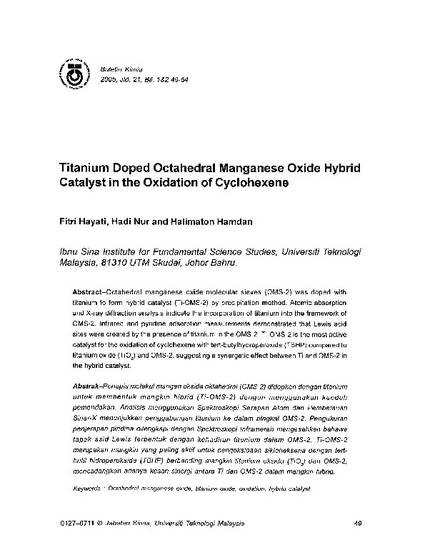 Article
Titanium Doped Octahedral Manganese Oxide Hybrid Catalyst in the Oxidation of Cyclohexene
Buletin Kimia (2005)
Abstract
Octahedral manganese oxide molecular sieves (OMS-2) was doped with titanium to form hybrid catalyst (Ti-OMS-2) by precipitation method. Atomic absorption and X-ray diffraction analysis indicate the incorporation of titanium into the framework of OMS-2. Infrared and pyridine adsorption measurements demonstrated that Lewis acid sites were created by the presence of titanium in the OMS-2. Ti-OMS-2 is the most active catalyst for the oxidation of cyclohexene with tert-butylhydroperoxide (TBHP) compared to titanium oxide (TiO2) and OMS-2; suggesting a synergetic effect between Ti and OMS-2 in the hybrid catalyst.
Keywords
Octahedral manganese oxide,
titanium oxide,
oxidation,
hybrid catalyst
Publication Date
March, 2005
Citation Information
Fitri Hayati, Hadi Nur and Halimaton Hamdan. "Titanium Doped Octahedral Manganese Oxide Hybrid Catalyst in the Oxidation of Cyclohexene"
Buletin Kimia
Vol. 21 Iss. 1-2 (2005)
Available at: http://works.bepress.com/hadi_nur/34/