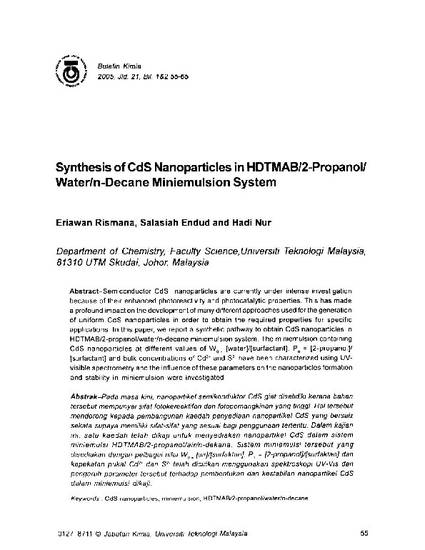 Article
Synthesis of CdS nanoparticles in HDTMAB/2-Propanol/Water/n-Decane Miniemulsion system
Buletin Kimia (2005)
Abstract
Semiconductor CdS nanoparticles are currently under intense investigation because of their enhanced photoreactivity and photocatalytic properties. This has made a profound impact on the development of many different approaches used for the generation of uniform CdS nanoparticles in order to obtain the required properties for specific applications. In this paper, we report a synthetic pathway to obtain CdS nanoparticles in HDTMAB/2-propanol/water/n-docane miniemulsion system. The miniemulsion containing CdS nanoparticles at different values of Wo [water]/|surfactant, Po = [2-propanol]/ [surfactant] and bulk concentrations of Cd2+ and S2- have been characterized using UV-visible spectrometry and the influence of these parameters on the nanoparticles formation and stability in miniemulsion were investigated.
Keywords
CdS nanoparticle,
miniemulsion,
HDTMAB/propanol/water/n-decane
Publication Date
March, 2005
Citation Information
Eriawan Rismana, Salasiah Endud and Hadi Nur. "Synthesis of CdS nanoparticles in HDTMAB/2-Propanol/Water/n-Decane Miniemulsion system"
Buletin Kimia
Vol. 21 Iss. 1-2 (2005)
Available at: http://works.bepress.com/hadi_nur/33/