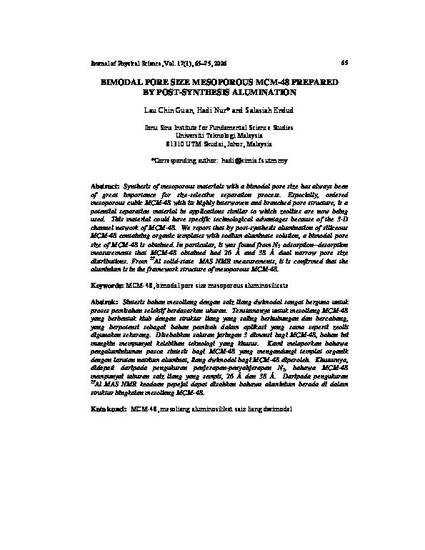 Article
Bimodal pore size mesoporous MCM-48 materials prepared by post-synthesis alumination
Journal of Physical Science (2006)
Abstract
Synthesis of mesoporous materials with a bimodal pore size has always been of great importance for size-selective separation process. Especially, ordered mesoporous cubic MCM-48 with its highly interwoven and branched pore structure, is a potential separation material in applications similar to which zeolites are now being used. This material could have specific technological advantages because of the 3-D channel network of MCM-48. We report that by post-synthesis alumination of siliceous MCM-48 containing organic templates with sodium aluminate solution, a bimodal pore size of MCM-48 is obtained. In particular, it was found from N2 adsorption−desorption measurements that MCM-48 obtained had 26 Å and 38 Å dual narrow pore size distributions. From 27Al solid-state MAS NMR measurements, it is confirmed that the aluminium is in the framework structure of mesoporous MCM-48.
Keywords
MCM-48,
bimodal pore size mesoporous aluminosilicate
Publication Date
June, 2006
Citation Information
Lau Chin Guan, Hadi Nur and Salasiah Endud. "Bimodal pore size mesoporous MCM-48 materials prepared by post-synthesis alumination"
Journal of Physical Science
Vol. 17 Iss. 1 (2006)
Available at: http://works.bepress.com/hadi_nur/25/