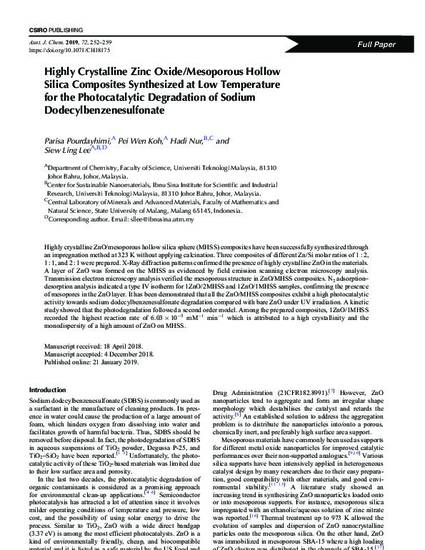 Article
Highly Crystalline Zinc Oxide/Mesoporous Hollow Silica Composites Synthesized at Low Temperature for the Photocatalytic Degradation of Sodium Dodecylbenzenesulfonate
Australian Journal of Chemistry (2019)
Abstract
Highly crystalline ZnO/mesoporous hollow silica sphere (MHSS) composites have been successfully synthesized through an impregnation method at 323 K without applying calcination. Three composites of different Zn/Si molar ratios of 1 : 2, 1 : 1, and 2 : 1 were prepared. X-Ray diffraction patterns confirmed the presence of highly crystalline ZnO in the materials. A layer of ZnO was formed on the MHSS as evidenced by field emission scanning electron microscopy analysis. Transmission electron microscopy analysis verified the mesoporous structure in ZnO/MHSS composites. N2adsorption–desorption analysis indicated a type IV isotherm for 1ZnO/2MHSS and 1ZnO/1MHSS samples, confirming the presence of mesopores in the ZnO layer. It has been demonstrated that all the ZnO/MHSS composites exhibit a high photocatalytic activity towards sodium dodecylbenzenesulfonate degradation compared with bare ZnO under UV irradiation. A kinetic study showed that the photodegradation followed a second order model. Among the prepared composites, 1ZnO/1MHSS recorded the highest reaction rate of 6.03 × 10−3 mM−1 min−1 which is attributed to a high crystallinity and the monodispersity of a high amount of ZnO on MHSS.
Keywords
zinc oxide,
mesoporous hollow titania,
composite,
photocatalysis,
sodium dodecylbenzenesulfonate
Citation Information
Parisa Pourdayhimi, Pei Wen Koh, Hadi Nur and Siew Ling Lee. "Highly Crystalline Zinc Oxide/Mesoporous Hollow Silica Composites Synthesized at Low Temperature for the Photocatalytic Degradation of Sodium Dodecylbenzenesulfonate"
Australian Journal of Chemistry
Vol. 72 (2019) p. 252 - 259
Available at: http://works.bepress.com/hadi_nur/215/