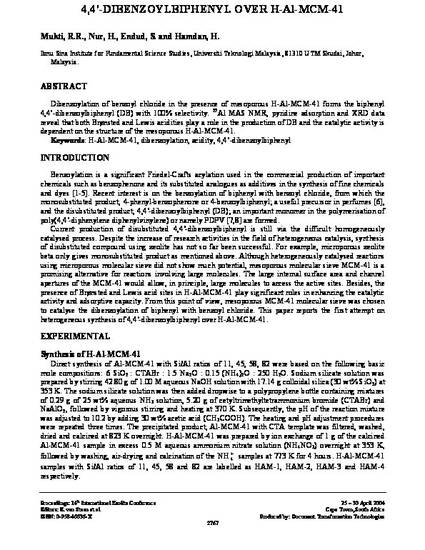 Article
Selective dibenzoylation of biphenyl to 4,4-dibenzoylbiphenyl over H-Al-MCM-41
Studies in Surface Science and Catalysis (2004)
Abstract
Dibenzoylation of benzoyl chloride in the presence of mesoporous H-Al-MCM-41 forms the biphenyl 4,4-dibenzoylbiphenyl (DB) with 100% selectivity. 27Al MAS NMR, pyridine adsorption and XRD data reveal that both Brønsted and Lewis acidities play a role in the production of DB and the catalytic activity is dependent on the structure of the mesoporous H-Al-MCM-41.
Keywords
H-Al-MCM-41,
dibenzoylation,
acidity,
4,
4`-dibenzoylbiphenyl
Publication Date
July, 2004
Citation Information
Rino Rakhmata Mukti, Hadi Nur, Salasiah Endud and Halimaton Hamdan. "Selective dibenzoylation of biphenyl to 4,4-dibenzoylbiphenyl over H-Al-MCM-41"
Studies in Surface Science and Catalysis
Vol. 154 (2004)
Available at: http://works.bepress.com/hadi_nur/21/