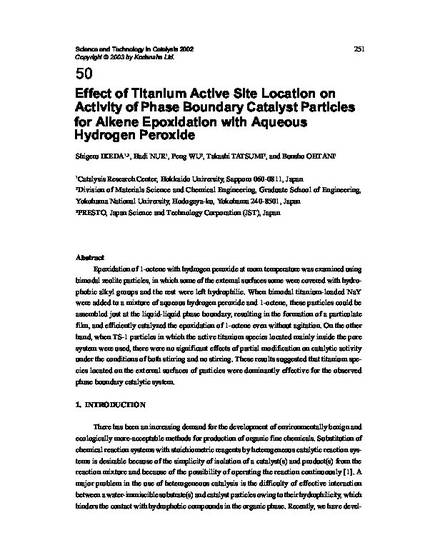 Article
Effect of titanium active site location on activity of phase boundary catalyst particle for alkene epoxidation with aqueous hydrogen peroxide
Studies in Surface Science and Catalysis (2003)
Abstract
Epoxidation of 1-octene with hydrogen peroxide at room temperature was examined using bimodal zeolite particles, in which some of the external surfaces sonic weie covered with hydro-phobic alkyl groups and the rest were left hydrophilic. When bimodal titanium-loaded NaY were added to a mixture of aqueous hydrogen peroxide and 1 -octenc. these panicles could be assembled just at the liquid-liquid phase boundary, resulting in the formation of a particulate fiim, and efficiently catalyzed the epoxidation of 1-octene even without agitation. On the other hand, when TS-1 particles in which the active titanium species located mainly inside the pore system were used, there were no significant effects of partial modification on catalytic activity under the conditions of both stirring and no stirring. Ihese results suggested that titanium spe¬cies located on the external surfaces of particles were dominantly effective for the observed phaie boundary catalytic system.
Publication Date
June, 2003
Citation Information
Shigeru Ikeda, Hadi Nur, Peng Wu, Takashi Tatsumi, et al.. "Effect of titanium active site location on activity of phase boundary catalyst particle for alkene epoxidation with aqueous hydrogen peroxide"
Studies in Surface Science and Catalysis
Vol. 145 (2003)
Available at: http://works.bepress.com/hadi_nur/20/