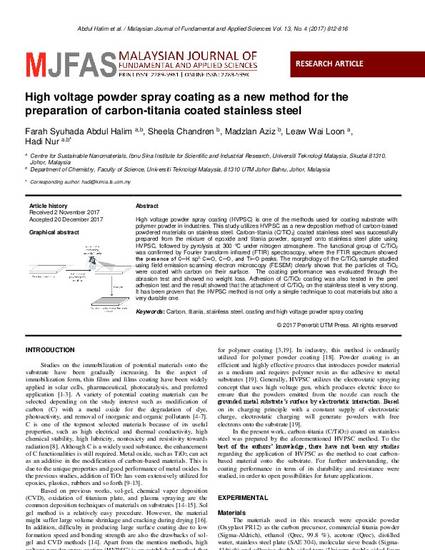 Article
High voltage powder spray coating as a new method for the preparation of carbon-titania coated stainless steel
Malaysian Journal of Fundamental and Applied Sciences (2017)
Abstract
High voltage powder spray coating (HVPSC) is one of the methods used for coating substrate with polymer powder in industries. This study utilizes HVPSC as a new deposition method of carbon-based powdered materials on stainless steel. Carbon-titania (C/TiO2) coated stainless steel was successfully prepared from the mixture of epoxide and titania powder, sprayed onto stainless steel plate using HVPSC, followed by pyrolysis at 300 °C under nitrogen atmosphere. The functional group of C/TiO2 was confirmed by Fourier transform infrared (FTIR) spectroscopy, where the FTIR spectrum showed the presence of C─H sp3, C═O, C─O, and Ti─O peaks. The morphology of the C/TiO2 sample studied using field emission scanning electron microscopy (FESEM) clearly shows that the particles of TiO2 were coated with carbon on their surface. The coating performance was evaluated through the abrasion test and showed no weight loss. Adhesion of C/TiO2 coating was also tested in the peel adhesion test and the result showed that the attachment of C/TiO2 on the stainless steel is very strong. It has been proven that the HVPSC method is not only a simple technique to coat materials but also a very durable one.
Keywords
Carbon,
titania,
stainless steel,
coating and high voltage powder spray coating
DOI
10.11113/mjfas.v13n4.892
Citation Information
Farah Syuhada Abdul Halim, Sheela Chandren, Madzlan Aziz, Wai Loon Leaw, et al.. "High voltage powder spray coating as a new method for the preparation of carbon-titania coated stainless steel"
Malaysian Journal of Fundamental and Applied Sciences
Vol. 13 Iss. 4 (2017) p. 812 - 816
Available at: http://works.bepress.com/hadi_nur/159/