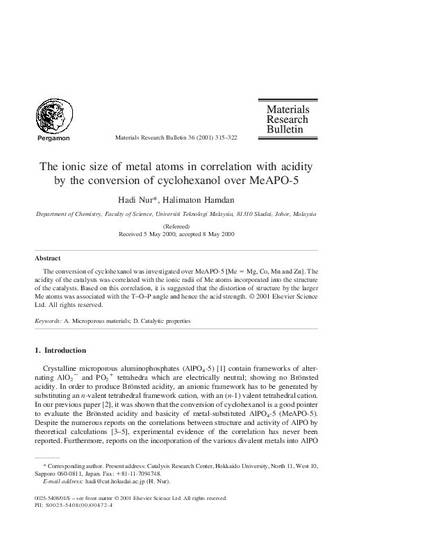 Article
The ionic size of metal atoms in correlation with acidity by the conversion of cyclohexanol over MeAPO-5
Materials Research Bulletin (2001)
Abstract
The conversion of cyclohexanol was investigated over MeAPO-5 [Me = Mg, Co, Mn and Zn]. The acidity of the catalysts was correlated with the ionic radii of Me atoms incorporated into the structure of the catalysts. Based on this correlation, it is suggested that the distortion of structure by the larger Me atoms was associated with the T–O–P angle and hence the acid strength.
Keywords
Microporous materials; Catalytic properties
Publication Date
January, 2001
Citation Information
Hadi Nur and Halimaton Hamdan. "The ionic size of metal atoms in correlation with acidity by the conversion of cyclohexanol over MeAPO-5"
Materials Research Bulletin
Vol. 36 Iss. 1-2 (2001)
Available at: http://works.bepress.com/hadi_nur/14/