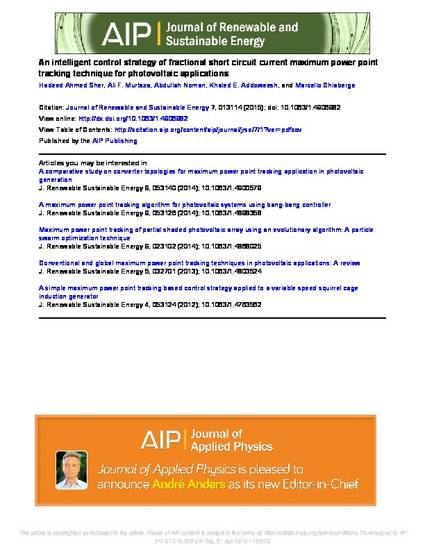 Article
An intelligent control strategy of fractional short circuit current maximum power point tracking technique for photovoltaic applications
Journal of Renewable and Sustainable Energy (2015)
Abstract
This paper presents an improved Fractional Short Circuit Current (FSCC) Maximum Power Point Tracking (MPPT) technique in which an additional control loop is used to find the proper moment to measure the SCC. The target is to reduce the power losses in MPPT process that occur as a result of intermittent time based short circuit current measurements. The proposed modification enables the conventional FSCC MPPT to decide intelligently about themeasurement of SCC thus reduces the number of times the photovoltaic (PV) module is isolated from the load. Although number of algorithms for tracking MPPT has been reported, the proposed method suits well for low cost PV applications. A Matlab/Simulink based model is employed to test the functional abilities of the proposed method. The comparison of the proposed method and conventional time based FSCC method is also presented in the simulation analysis. Finally, a 130 W prototype based on the dSPACE DS1104 controller and experimental results are presented to verify the effectiveness of the proposed method. The technique is verified under uniform shading conditions. The results show satisfactory performance against test conditions.
Keywords
Maximum Power Point Tracking,
Offline MPPT,
Photovoltaics
Publication Date
January, 2015
DOI
http://dx.doi.org/10.1063/1.4906982
Citation Information
Hadeed A Sher. "An intelligent control strategy of fractional short circuit current maximum power point tracking technique for photovoltaic applications"
Journal of Renewable and Sustainable Energy
Vol. 7 Iss. 1 (2015) ISSN: 1941-7012
Available at: http://works.bepress.com/hadeed-sher/6/