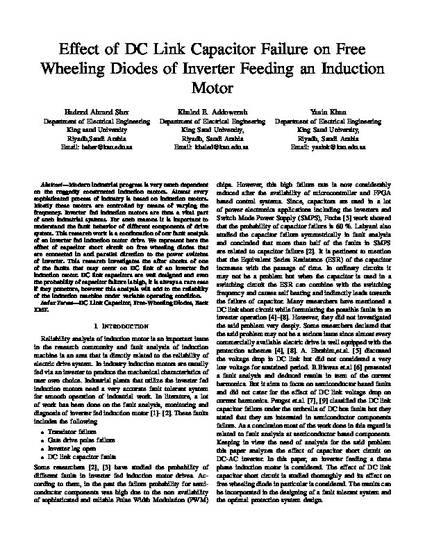 Popular Press
Effect of DC Link Capacitor Failure on Free Wheeling Diodes of Inverter Feeding an Induction Motor
IEEE Workshop on Power Electronics in Industrial Applications and Renewable Energy (PEIA,2011) (2011)
Abstract
—Modern industrial progress is very much dependent on the ruggedly constructed induction motors. Almost every sophisticated process of industry is based on induction motors. Mostly these motors are controlled by means of varying the frequency. Inverter fed induction motors are thus a vital part of such industrial systems. For such reasons it is important to understand the fault behavior of different components of drive system. This research work is a continuation of our fault analysis of an inverter fed induction motor drive. We represent here the effect of capacitor short circuit on free wheeling diodes that are connected in anti parallel direction to the power switches of inverter. This research investigates the after shocks of one of the faults that may occur on DC link of an inverter fed induction motor. DC link capacitors are well designed and even the probability of capacitor failure is high, it is always a rare case if they puncture, however this analysis will add to the reliability of the induction machine under variable operating condition.
Keywords
Induction motor,
DC link capacitor,
back emf
Citation Information
Hadeed A Sher. "Effect of DC Link Capacitor Failure on Free Wheeling Diodes of Inverter Feeding an Induction Motor"
IEEE Workshop on Power Electronics in Industrial Applications and Renewable Energy (PEIA,2011)
(2011)
Available at: http://works.bepress.com/hadeed-sher/10/