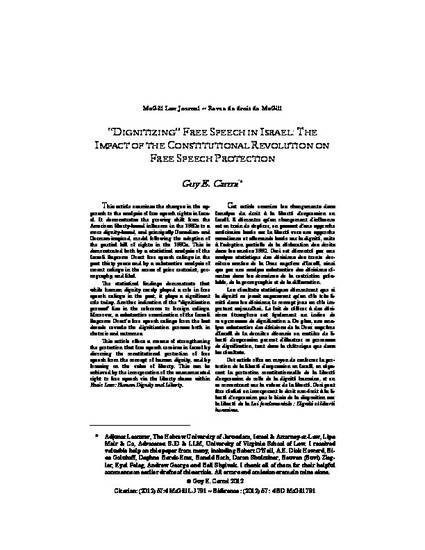 Article
"Dignitizing" Free Speech in Israel: The Impact of the Constitutional Revolution on Free Speech Protection
McGill Law Journal (2012)
Abstract
This Article examines the changes in the approach to the analysis of free speech rights in Israel. It demonstrates the growing shift from the American liberty-based influence in the 1980s to a more dignity-based, and principally Canadian- and German-inspired, model following the adoption of the partial Bill of Rights in the 1990s. This is demonstrated both by a statistical analysis of the Israeli Supreme Court free speech rulings in the past thirty years and by a substantive analysis of recent rulings in the areas of prior restraint, pornography, and libel.
The statistical findings demonstrate that while human dignity rarely played a role in free speech rulings in the past, it plays a significant role today. Another indication of the "dignitization process" lies in the reference to foreign rulings. Moreover, a substantive examination of the Israeli Supreme Court's free speech rulings from the last decade reveals the dignitization process both in rhetoric and outcomes.
This Article offers a means of strengthening the protection that free speech receives in Israel, by divorcing the constitutional protection of free speech from the concept of human dignity, and by focusing on the value of liberty. This can be achieved by the incorporation of the unenumerated right to free speech via the Liberty Clause within Basic Law: Human Dignity and Liberty.
Keywords
Free Speech,
Human Dignity,
Israel
Publication Date
June, 2012
Citation Information
Guy E Carmi. ""Dignitizing" Free Speech in Israel: The Impact of the Constitutional Revolution on Free Speech Protection"
McGill Law Journal
Vol. 57 Iss. 4 (2012)
Available at: http://works.bepress.com/guy_carmi/5/