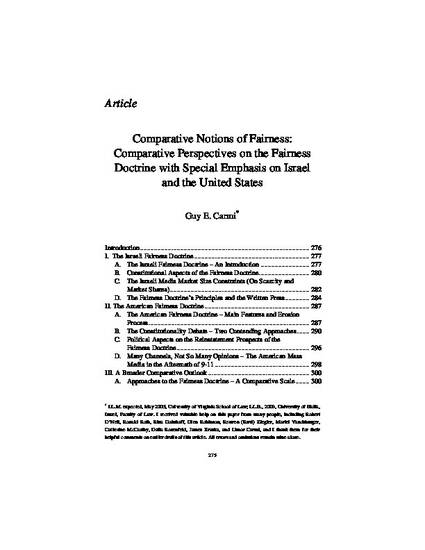 Article
Comparative Notions of Fairness: Comparative Perspectives on the Fairness Doctrine with Special Emphasis on Israel and the United States
VIRGINIA SPORTS & ENTERTAINMENT LAW JOURNAL (2005)
Abstract
The Article offers a comparative analysis of the manner in which different legal systems refer to mechanisms that are intended to ensure fairness, impartiality, and balance in mass media reporting and on issues of public importance, namely, the Fairness Doctrine and its non-U.S. counterparts. The Article reviews several systems, yet focuses on those in Israel and the United States.
The Israeli fairness doctrine was imported from the American system, where it was subsequently repealed. Despite this fact, the Israeli Supreme Court has left the doctrine intact. The prima facie contradiction between the obsolescence of the doctrine in its land of origin and its continued validity in Israel, is examined in several aspects, including different constitutional regimes and approaches, market size and economic constraints, as well as the differentiation between the diverse kinds of mass media and their regulation.
The Article offers taxonomy of different legal systems' constitutional attitudes towards the Fairness Doctrine, and maps them along a scale, placing Germany at one end of the spectrum, and the United States on the other end.
Finally, the Article also reviews the policy behind the possible reinstatement of the fairness doctrine in the American system, in light of the comparative analysis conducted throughout the paper. The Article explores how fundamental approaches of different legal systems may justify discrepancies in the manner in which they view and implement media regulation and in the manner government's role in ensuring the fairness of the mass media is perceived.
Keywords
Fairness Doctrine,
Free Speech,
First Amendment,
Israel,
United States,
Comparative Law
Publication Date
March, 2005
Citation Information
Guy E. Carmi,
Comparative Notions of Fairness: Comparative Perspectives on the Fairness Doctrine with Special Emphasis on Israel and the United States
, 4 VIRGINIA SPORTS & ENTERTAINMENT LAW JOURNAL 275 (2005). Available at: http://works.bepress.com/guy_carmi/3