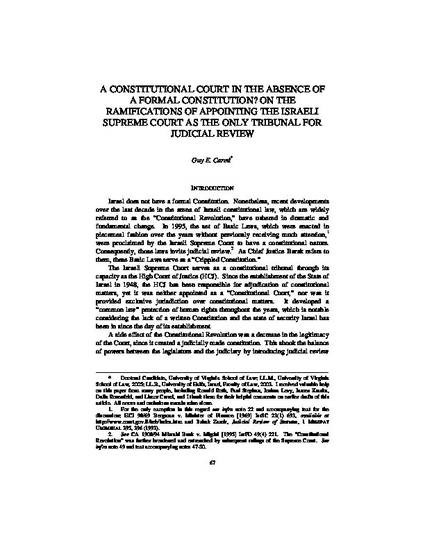 Article
A Constitutional Court in the Absence of a Formal Constitution? On the Ramifications of Appointing the Israeli Supreme Court as the Only Tribunal for Judicial Review
CONNECTICUT JOURNAL OF INTERNATIONAL LAW (2005)
Abstract
This manuscript reviews an emerging debate in Israel regarding the appointment of the Supreme Court as a Constitutional Court. Specifically, it offers a critical analysis of the most recent proposed model, which is now in the initial legislative stages (The "Neeman Committee"), to appoint the Supreme Court as the sole constitutional arbiter.
First, the article offers an overview of the main processes that have occurred in the arena of Israeli constitutional law in the last decade, generally known as the "Constitutional Revolution." Next, the article shows the nexus between this process and the revival of the constitutional court debate. Readers less familiar with the Israeli legal system will acquire a firmer understanding of the reasons in favor of a Constitutional Court. Special emphasis is given to the controversy of judicial review by lower courts, its analysis, and how the issue has served to ignite recent debate.
The article also discusses fundamental traits of constitutional tribunals in common law and civil law systems and reviews them through the prism of the Israeli system. With its unique characteristics and diverse influences, the Israeli system is usually classified as a mixed legal system. In addition, the article offers a critical analysis, as well as reform proposals, for the Neeman Committee's proposal.
To date, there has been no serious analysis published on the influence of judicial review performed by Israeli lower courts. So far there has been a lack of English language scholarship on the Israeli constitutional court debate, and yet it is perhaps the most intriguing current issue in the Israeli legal system.
Keywords
Constitutional Court,
Israel,
Comparative Law,
Judicial Review
Publication Date
December, 2005
Citation Information
Guy E. Carmi,
A Constitutional Court in the Absence of a Formal Constitution? On the Ramifications of Appointing the Israeli Supreme Court as the Only Tribunal for Judicial Review
, 21 CONNECTICUT JOURNAL OF INTERNATIONAL LAW 67 (2005). Available at: http://works.bepress.com/guy_carmi/2