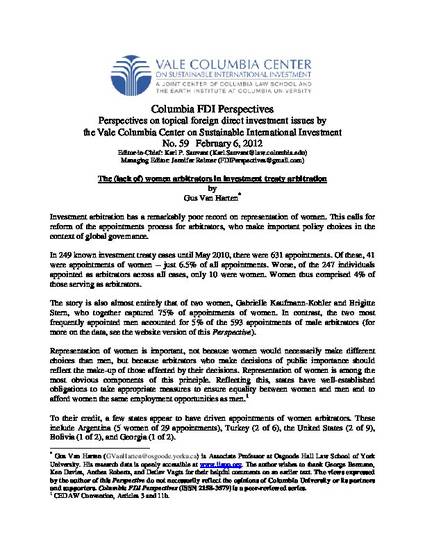 Article
The (Lack of) Women Arbitrators in Investment Treaty Arbitration
Columbia FDI Perspectives. No. 59, (February 2012).
Publication Date
2-6-2012
Keywords
arbitration, diversity, international, investment, representation, women
Abstract
Investment treaty arbitration appears to be a boy's club. Just 4% of individuals appointed as arbitrators in known cases to May 2010 were women. This casts doubt on the system's ad hoc and partly-privatized appointments process. A roster-based model would enable a more deliberative and merit-based process of appointments and ensure public accountability and independence in the system.
Creative Commons License
Creative Commons Attribution-Noncommercial-No Derivative Works 4.0
Citation Information
Van Harten, Gus. "The (Lack of) Women Arbitrators in Investment Treaty Arbitration."
Columbia FDI Perspectives
29 (February 2012).