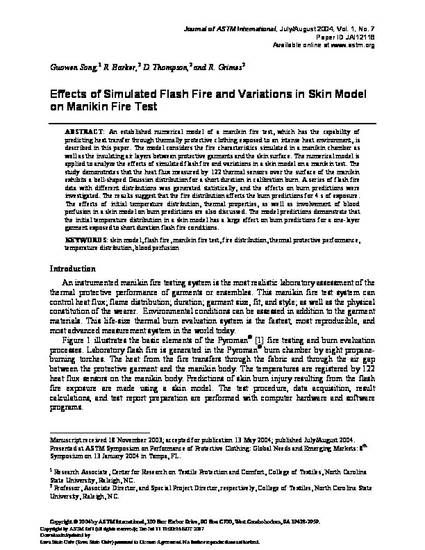 Article
Effects of Simulated Flash Fire and Variations in Skin Model on Manikin Fire Test
Journal of ASTM International (2004)
Abstract
An established numerical model of a manikin fire test, which has the capability of predicting heat transfer through thermally protective clothing exposed to an intense heat environment, is described in this paper. The model considers the fire characteristics simulated in a manikin chamber as well as the insulating air layers between protective garments and the skin surface. The numerical model is applied to analyze the effects of simulated flash fire and variations in a skin model on a manikin test. The study demonstrates that the heat flux measured by 122 thermal sensors over the surface of the manikin exhibits a bell-shaped Gaussian distribution for a short duration in calibration burn. A series of flash fire data with different distributions was generated statistically, and the effects on burn predictions were investigated. The results suggest that the fire distribution affects the burn predictions for 4 s of exposure. The effects of initial temperature distribution, thermal properties, as well as involvement of blood perfusion in a skin model on burn predictions are also discussed. The model predictions demonstrate that the initial temperature distribution in a skin model has a large effect on burn predictions for a one-layer garment exposed to short duration flash fire conditions. 
Keywords
skin model,
flash fire,
manikin fire test,
fire distribution,
thermal protective performance,
temperature distribution,
blood perfusion
Publication Date
July, 2004
Citation Information
Guowen Song, R. Barker, D. Thompson and R. Grimes. "Effects of Simulated Flash Fire and Variations in Skin Model on Manikin Fire Test"
Journal of ASTM International
Vol. 1 Iss. 7 (2004) p. 1 - 9 ISSN: 1546-962X
Available at: http://works.bepress.com/guowen-song/3/