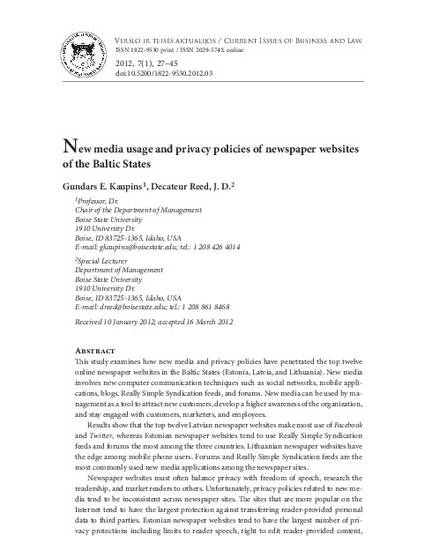 Article
New Media Usage and Privacy Policies of Newspaper Websites of the Baltic States
Current Issues of Business and Law
Publication Date
1-1-2012
Abstract
This study examines how new media and privacy policies have penetrated the top twelve online newspaper websites in the Baltic States (Estonia, Latvia, and Lithuania). New media involves new computer communication techniques such as social networks, mobile applications, blogs, Really Simple Syndication feeds, and forums. New media can be used by management as a tool to attract new customers, develop a higher awareness of the organization, and stay engaged with customers, marketers, and employees. Results show that the top twelve Latvian newspaper websites make most use of Facebook and Twitter, whereas Estonian newspaper websites tend to use Really Simple Syndication feeds and forums the most among the three countries. Lithuanian newspaper websites have the edge among mobile phone users. Forums and Really Simple Syndication feeds are the most commonly used new media applications among the newspaper sites. Newspaper websites must often balance privacy with freedom of speech, research the readership, and market readers to others. Unfortunately, privacy policies related to new media tend to be inconsistent across newspaper sites. The sites that are more popular on the Internet tend to have the largest protection against transferring reader-provided personal data to third parties. Estonian newspaper websites tend to have the largest number of privacy protections including limits to reader speech, right to edit reader-provided content, disclaimer of responsibility of reader-provided content, policies associated with privacy of personal information protected, and a statement announcing infringements of rules incur legal liability for anyone submitting inappropriate content to the newspaper.
Citation Information
Gundars Kaupins and Decateur Reed. "New Media Usage and Privacy Policies of Newspaper Websites of the Baltic States"
Current Issues of Business and Law
(2012)
Available at: http://works.bepress.com/gundars_kaupins/13/