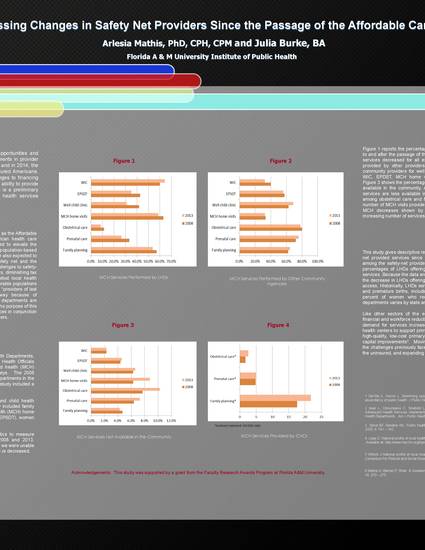 Presentation
Assessing Changes in Safety Net Providers since the Passage of the Affordable Care Act
Poster presentation Session B. Keeneland Conference for PHSSR
Document Type
Presentation
Publication Date
4-21-2015
Abstract
The passage of the Affordable Care Act presented opportunities and challenges for safety net providers. Significant investments in provider capacity promised much needed expansion of services; and in 2014, the law extended coverage to millions of previously uninsured Americans. However, safety net providers are concerned that changes to financing brought about by changes in the ACA may threaten their ability to provide services to millions more who still lack insurance. This is a preliminary study of changes occurring with maternal and child health services among safety-net providers.
Source
http://www.publichealthsystems.org/sites/default/files/kc15/KC15_PSB_Bd36_Mathis.pdf
Citation Information
Arlesia Mathis, Julia Burke and Gulzar H. Shah. "Assessing Changes in Safety Net Providers since the Passage of the Affordable Care Act"
Poster presentation Session B. Keeneland Conference for PHSSR
(2015)
Available at: http://works.bepress.com/gulzar_shah/170/