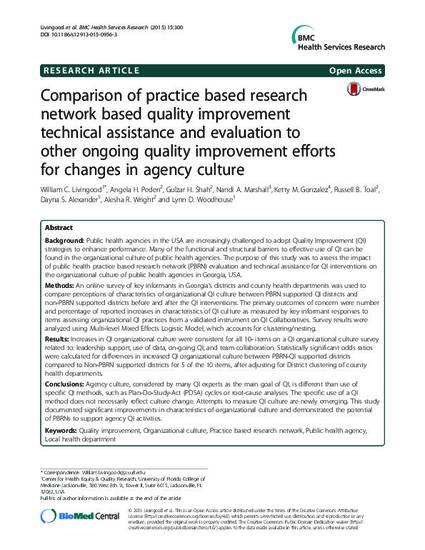 Article
Comparison of Practice Based Research Network Based Quality Improvement Technical Assistance and Evaluation to Other Ongoing Quality Improvement Efforts for Changes in Agency Culture
BMC Health Services Research
Publication Date
7-31-2015
DOI
10.1186/s12913-015-0956-3
Abstract
Background
Public health agencies in the USA are increasingly challenged to adopt Quality Improvement (QI) strategies to enhance performance. Many of the functional and structural barriers to effective use of QI can be found in the organizational culture of public health agencies. The purpose of this study was to assess the impact of public health practice based research network (PBRN) evaluation and technical assistance for QI interventions on the organizational culture of public health agencies in Georgia, USA. Methods
An online survey of key informants in Georgia's districts and county health departments was used to compare perceptions of characteristics of organizational QI culture between PBRN supported QI districts and non-PBRN supported districts before and after the QI interventions. The primary outcomes of concern were number and percentage of reported increases in characteristics of QI culture as measured by key informant responses to items assessing organizational QI practices from a validated instrument on QI Collaboratives. Survey results were analyzed using Multi-level Mixed Effects Logistic Model, which accounts for clustering/nesting. Results
Increases in QI organizational culture were consistent for all 10- items on a QI organizational culture survey related to: leadership support, use of data, on-going QI, and team collaboration. Statistically significant odds ratios were calculated for differences in increased QI organizational culture between PBRN-QI supported districts compared to Non-PBRN supported districts for 5 of the 10 items, after adjusting for District clustering of county health departments. Conclusions
Agency culture, considered by many QI experts as the main goal of QI, is different than use of specific QI methods, such as Plan-Do-Study-Act (PDSA) cycles or root-cause analyses. The specific use of a QI method does not necessarily reflect culture change. Attempts to measure QI culture are newly emerging. This study documented significant improvements in characteristics of organizational culture and demonstrated the potential of PBRNs to support agency QI activities.
Citation Information
William Livingood, Angela Peden, Gulzar H. Shah, Nandi Marshall, et al.. "Comparison of Practice Based Research Network Based Quality Improvement Technical Assistance and Evaluation to Other Ongoing Quality Improvement Efforts for Changes in Agency Culture"
BMC Health Services Research
Vol. 15 (2015) p. 300
Available at: http://works.bepress.com/gulzar_shah/164/