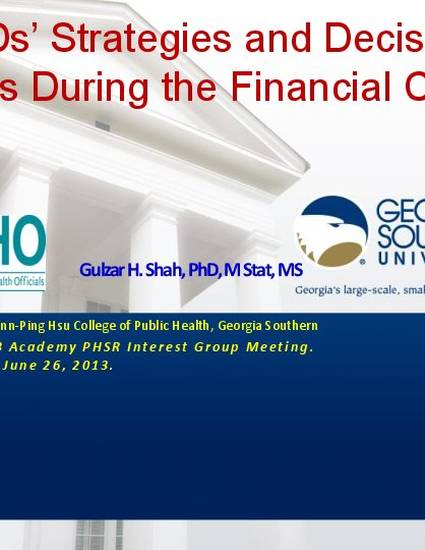 Presentation
Local Public Health in Financial Crises: Common Decision Drivers for Changes in Services Due to Economic Downturn
Panel presentation at 12th Annual Academy Health Public Health Systems Research (PHSR) Interest Group Meeting
Document Type
Presentation
Publication Date
6-25-2011
Abstract
We measured the impact of the 2008-2010 economic recession on local health departments (LHDs) across the United States. Between 2008 and 2010, we conducted 3 Web-based, cross-sectional surveys of a nationally representative sample of LHDs to assess cuts to budgets, workforce, and programs. By early 2010, more than half of the LHDs (53%) were experiencing cuts to their core funding. In excess of 23 000 LHDs jobs were lost in 2008-2009. All programmatic areas were affected by cuts, and more than half of protecting the health of the public, such as monitoring health status to identify and solve conmmnity health problems and enforcing laws and regulations that pro-tect the public health and ensure safety. Greater per capita funding from local sources is associated with im-proved performance on all of the Essential Services, and greater federal funding is associated with improved performance in 5 of the 10 indicators. Moreover, evi-dence suggests that stable and adequate funding at the local level may enable an LHD to access greater state or federal funding.
Citation Information
Gulzar H. Shah. "Local Public Health in Financial Crises: Common Decision Drivers for Changes in Services Due to Economic Downturn"
Panel presentation at 12th Annual Academy Health Public Health Systems Research (PHSR) Interest Group Meeting
(2011)
Available at: http://works.bepress.com/gulzar_shah/103/