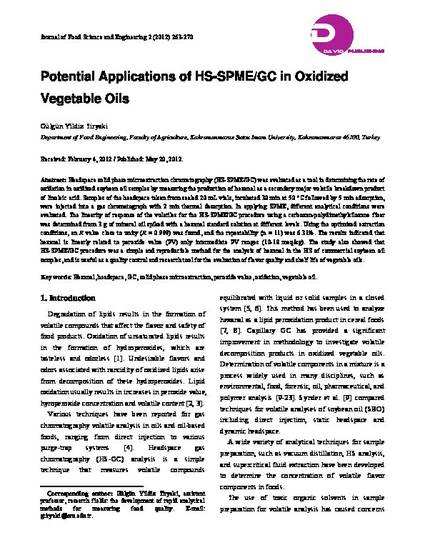 Article
Potential Applications Of HS-SPME/GC In Oxidized Vegetable Oils.
Journal of Food Science and Engineering (2012)
Abstract
Headspace solid phase microextraction chromatography (HS-SPME/GC) was evaluated as a tool in determining the rate of oxidation in oxidized soybean oil samples by measuring the production of hexanal as a secondary major volatile breakdown product of linoleic acid. Samples of the headspace taken from sealed 20 mL vials, incubated 30 min at 50 °C followed by 5 min adsorption, were injected into a gas chromatograph with 2 min thermal desorption. In applying SPME, different analytical conditions were evaluated. The linearity of response of the volatiles for the HS-SPME/GC procedure using a carboxen-polydimethylsiloxane fiber was determined from 3 g of mineral oil spiked with a hexanal standard solution at different levels. Using the optimized extraction conditions, an R value close to unity (R = 0.999) was found, and the repeatability (n = 11) was 6.31%. The results indicated that hexanal is linearly related to peroxide value (PV) only intermediate PV ranges (10-18 meq/kg). The study also showed that HS-SPME/GC procedure was a simple and reproducible method for the analysis of hexanal in the HS of commercial soybean oil samples, and is useful as a quality control and research tool for the evaluation of flavor quality and shelf life of vegetable oils.
Keywords
Hexanal,
headspace,
GC,
solid phase microextraction,
peroxide value,
oxidation,
vegetable oil.
Citation Information
Gulgun YILDIZ TİRYAKİ. "Potential Applications Of HS-SPME/GC In Oxidized Vegetable Oils."
Journal of Food Science and Engineering
Vol. 2 Iss. 5 (2012)
Available at: http://works.bepress.com/gulgun_yildiz_tiryaki/7/