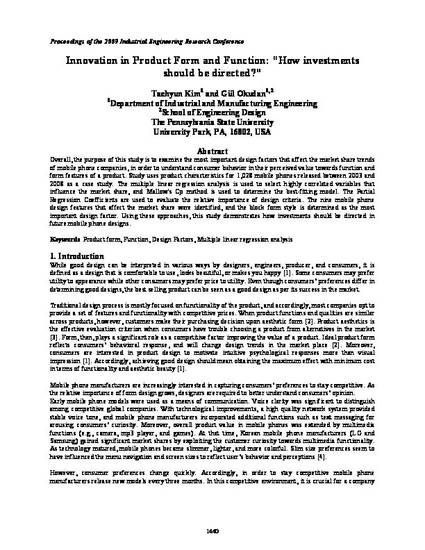 Presentation
Innovation in Product Form and Function: "How investments should be directed?"
IIE Annual Conference (2009)
Abstract
Overall, the purpose of this study is to examine the most important design factors that affect the market share trends of mobile phone companies, in order to understand consumer behavior in their perceived value towards function and form features of a product. Study uses product characteristics for 1,028 mobile phones released between 2003 and 2008 as a case study. The multiple linear regression analysis is used to select highly correlated variables that influence the market share, and Mallow's Cp method is used to determine the best-fitting model. The Partial Regression Coefficients are used to evaluate the relative importance of design criteria. The nine mobile phone design features that affect the market share were identified, and the block form style is determined as the most important design factor. Using these approaches, this study demonstrates how investments should be directed in future mobile phone designs.
Keywords
Product form,
Function,
Design Factors,
Multiple linear regression analysis
Citation Information
Taehyun Kim and Gül E. Kremer. "Innovation in Product Form and Function: "How investments should be directed?""
IIE Annual Conference
(2009)
Available at: http://works.bepress.com/gul-kremer/163/