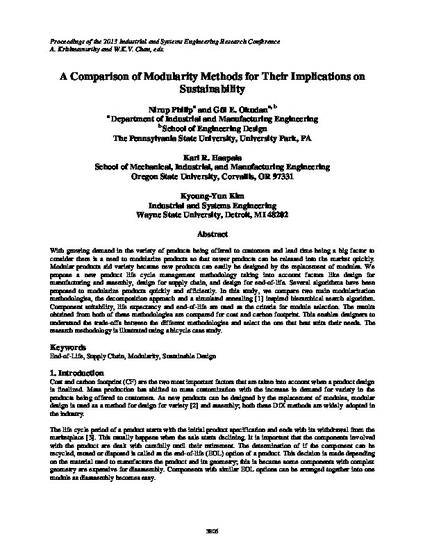 Presentation
A Comparison of Modularity Methods for Their Implications on Sustainability
IIE Annual Conference (2013)
Abstract
With growing demand in the variety of products being offered to customers and lead time being a big factor to consider there is a need to modularize products so that newer products can be released into the market quickly. Modular products aid variety because new products can easily be designed by the replacement of modules. We propose a new product life cycle management methodology taking into account factors like design for manufacturing and assembly, design for supply chain, and design for end-of-life. Several algorithms have been proposed to modularize products quickly and efficiently. In this study, we compare two main modularization methodologies, the decomposition approach and a simulated annealing [1] inspired hierarchical search algorithm. Component suitability, life expectancy and end-of-life are used as the criteria for module selection. The results obtained from both of these methodologies are compared for cost and carbon footprint. This enables designers to understand the trade-offs between the different methodologies and select the one that best suits their needs. The research methodology is illustrated using a bicycle case study.
Keywords
End-of-Life,
Supply Chain,
Modularity,
Sustainable Design
Citation Information
Nirup Philip, Gül E. Kremer, Karl R. Haapala and Kyoung-Yun Kim. "A Comparison of Modularity Methods for Their Implications on Sustainability"
IIE Annual Conference
(2013)
Available at: http://works.bepress.com/gul-kremer/155/