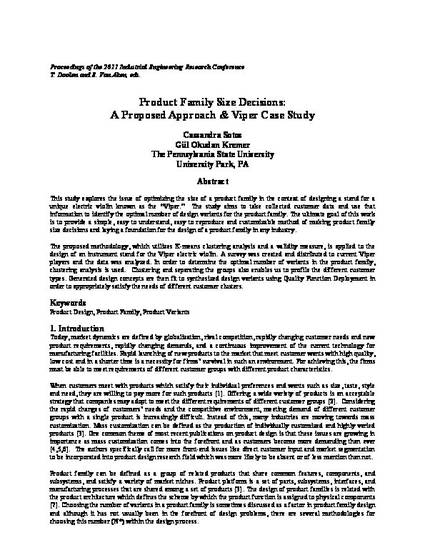 Presentation
Product Family Size Decisions: A Proposed Approach & Viper Case Study
IIE Annual Conference (2011)
Abstract
This study explores the issue of optimizing the size of a product family in the context of designing a stand for a
unique electric violin known as the "Viper." The study aims to take collected customer data and use that
information to identify the optimal number of design variants for the product family. The ultimate goal of this work
is to provide a simple, easy to understand, easy to reproduce and customizable method of making product family
size decisions and laying a foundation for the design of a product family in any industry.
The proposed methodology, which utilizes K-means clustering analysis and a validity measure, is applied to the
design of an instrument stand for the Viper electric violin. A survey was created and distributed to current Viper
players and the data was analyzed. In order to determine the optimal number of variants in the product family,
clustering analysis is used. Clustering and separating the groups also enables us to profile the different customer
types. Generated design concepts are then fit to synthesized design variants using Quality Function Deployment in order to appropriately satisfy the needs of different customer clusters.
Keywords
Product Design,
Product Family,
Product Variants
Citation Information
Cassandra Sotos and Gül E. Kremer. "Product Family Size Decisions: A Proposed Approach & Viper Case Study"
IIE Annual Conference
(2011)
Available at: http://works.bepress.com/gul-kremer/145/