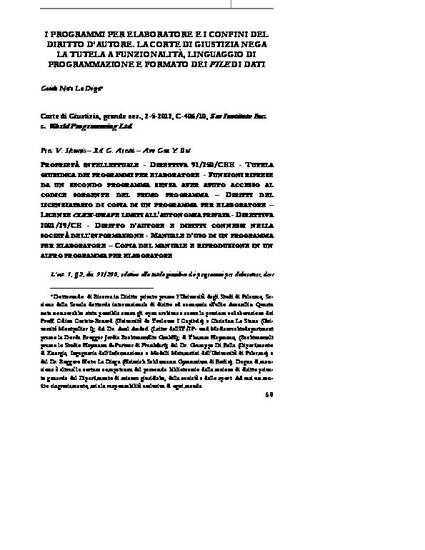 Article
I programmi per elaboratore e i confini del diritto d'autore. La Corte di Giustizia nega la tutela a funzionalità, linguaggio di programmazione e Formato Dei File Di Dati (Computer Programs and the Boundaries of Copyright: The Court of Justice Denies Protection to Functionalities, Programming Language and Formats of Data Files)
Rivista di Diritto dell'Economia, dei Trasporti e dell'Ambiente (2013)
Abstract
A comment to the Sas Institute Inc. v. World Programming Ltd case [Court of Justice, Grand Chamber, 2 May 2012, C-406/10]. It is one of the most important European decisions in the field of computer programs and it is notable both from a practical and a theoretical point of view. The European Court of Justice denies protection to functionalities, programming language and format of data files, because they have to be considered as 'ideas' and not as 'expression'. The idea/expression dichotomy, often called into question especially in software copyright, is placed at the core of a not anymore ignorable, both by scholars and enterprises. Italian Abstract: Un commento al caso Sas Institute Inc. c. World Programming Ltd. Si tratta di una delle più importanti sentenze europee in materia di programmi per elaboratore, sia da un punto di vista pratico, che da un punto di vista teorico. Basti pensare che la Corte di Giustizia è giunta a negare tutela alle funzionalità, al linguaggio di programmazione e al formato dei file di dati in quanto considerati afferenti al mondo delle idee e non dell'espressione. La dicotomia idea-espressione, da molti contestata proprio con riguardo al diritto d'autore sugli elementi software, viene con forza ripresa e posta alla base di una decisione che non può essere ignorata né dai giuristi, né dalle imprese.
Keywords
Software,
Copyright,
Computer Programs,
Sas Institute v. World Programming,
European Private Law
Publication Date
June 1, 2013
Citation Information
Guido Noto La Diega. "I programmi per elaboratore e i confini del diritto d'autore. La Corte di Giustizia nega la tutela a funzionalità, linguaggio di programmazione e Formato Dei File Di Dati (Computer Programs and the Boundaries of Copyright: The Court of Justice Denies Protection to Functionalities, Programming Language and Formats of Data Files)"
Rivista di Diritto dell'Economia, dei Trasporti e dell'Ambiente
Vol. IX (2013)
Available at: http://works.bepress.com/guidonotoladiega/3/