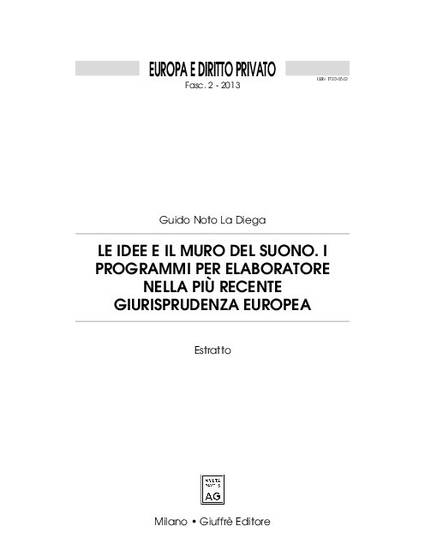 Article
Le idee e il muro del suono. I programmi per elaboratore nella più recente giurisprudenza europea (Ideas and Sound Barrier: Computer Programs in the Most Recent European Case-Law)
Europa e diritto privato (2013)
Abstract
After a deep introduction on the technical and definitory aspects of computer programs, in this essay I study the European case-law, stressing the renovated importance of the idea/expression dichotomy. The occasion is propitious to describe the evolution of law in a technological environment: nihilistic views have to be abandoned. Italian Abstract: Dopo un'approfondita introduzione sugli aspetti tecnici e le preliminari definizioni in materia di programmi per elaboratore, questo saggio si concentra sulla giurisprudenza europea, dove si torna a sottolineare con forza l'importanza della dicotomia idea/espressione. L'occasione si rivela propizia per descrivere l'evoluzione del diritto in relazione all'evoluzione tecnologica: sul punto, suggerisco di abbandonare ogni, pur comprensibile, approccio nichilista.
Keywords
Copyright,
Software,
Diritto d'autore,
European Private Law,
Case Law,
European Court of Justice,
Sas Institute,
World Programming,
Computer Programs,
Idea,
Expression,
Dicothomy
Citation Information
Guido Noto La Diega. "Le idee e il muro del suono. I programmi per elaboratore nella più recente giurisprudenza europea (Ideas and Sound Barrier: Computer Programs in the Most Recent European Case-Law)"
Europa e diritto privato
Iss. II (2013)
Available at: http://works.bepress.com/guidonotoladiega/2/