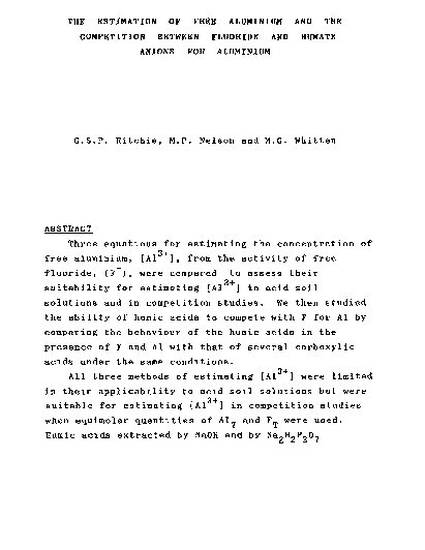 Article
The Estimation of Free Aluminium and the Competition Between Fluoride and Humate Anions for Aluminium
Communications in Soil Science and Plant Analysis
Publication Date
5-1-1988
Abstract
Three equations for estimating the concentration of free aluminium, [Al3+], from the activity of free fluoride, (F-), were compared to assess their suitability for estimating [Al3+] in acid soil solutions and in competition studies. We then studied the ability of humic acids to compete with F for Al by comparing the behaviour of the humic acids in the presence of F and Al with that of several carboxylic acids under the same conditions. All three methods of estimating [Al ] were limited in their applicability to acid soil solutions but were uitable for estimating [Al3+] in competition studies when equimolar quantities of AlT and FT were used. Humic acids extracted by NaOH and by Na2H2P2O7 decreased the amount of Al complexed with F by 21 -100% at pH 4 and 6 and ratios of Cmoles of humic acid: F>l. The Al humate complex precipitated when the Al: humic acid ratio was >1. Both humic acids appeared to be more effective than simple carboxylic acids at competing with F for Al.
Citation Information
G. S.P. Ritchie, M. P. Nelson and M. G. Whitten. "The Estimation of Free Aluminium and the Competition Between Fluoride and Humate Anions for Aluminium"
Communications in Soil Science and Plant Analysis
Vol. 19 Iss. 7-12 (1988) p. 857 - 871
Available at: http://works.bepress.com/gsritchi/19/