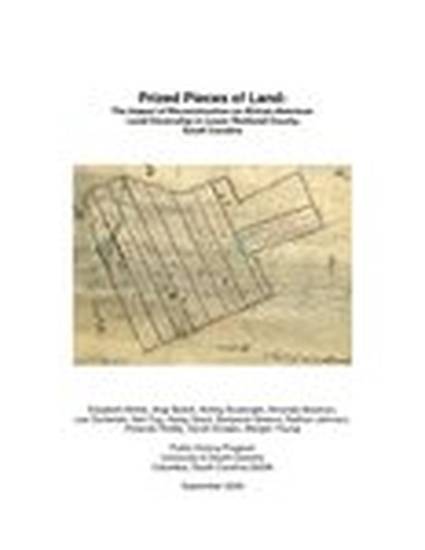 Book
Prized Pieces of Land: The Impact of Reconstruction on African-American Land Ownership in Lower Richland County, South Carolina
(2009)
Abstract
This report is divided into five sections. The first section assesses the promise of Reconstruction for black South Carolinians in the years after the Civil War, and it situates thiscase study of the South Carolina Land Commission within that historical context. The second section examines in turn the seven tracts of land sold by the Land Commission in LowerRichland County. The research indicates that in two of the tracts, Hickory Hill and Hopkins, African-American families were able to purchase and retain significant acreage for well over acentury. Section three offers some concluding observations, as it presents a set of recommendations for preserving the extant properties of Lower Richland County associated withthe Land Commission sales and for interpreting this history to public audiences through museum exhibits and educational programming. The primary and secondary sources consulted in this study are listed in section four as a guide to further reading.
Keywords
African Americans,
Land tenure,
South Carolina,
Richland County,
History. African Americans,
History. Land tenure,
History. Richland County (S.C.),
History.
Publication Date
Fall September, 2009
Publisher
University of South Carolina Press
Citation Information
Almlie, Elizabeth; Wildt, Angi Fuller; Bouknight, Ashley; Bowman, Amanda; Durbetaki, Lee; Fay, Keri; Grant, Haley; Greene, Benjamin; Johnson, Nathan; Roddy, Amanda; Scripps, Sarah; and Young, Morgen, "Prized Pieces of Land: The Impact of Reconstruction on African-American Land Ownership in Lower Richland County, South Carolina" (2009). Books and Manuscripts. Book 3. http://scholarcommons.sc.edu/pubhist_books/3