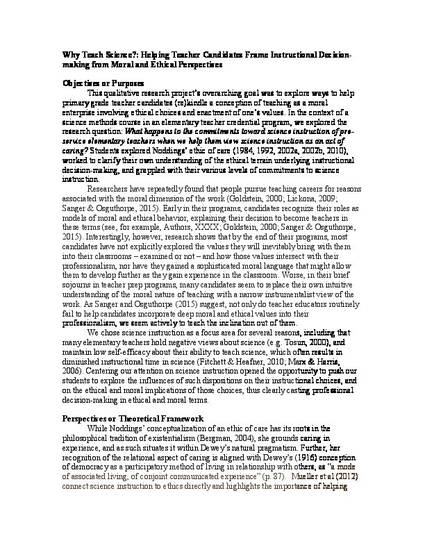 Presentation
Why Teach Science? Helping Teacher Candidates Frame Instructional Decision Making From Moral and Ethical Perspectives
American Educational Research Association (AERA) Annual Meeting (2017)
Abstract
This qualitative research project's overarching goal was to explore ways to help primary grade teacher candidates (re)kindle a conception of teaching as a moral enterprise involving ethical choices and enactment of one's values. In the context of a science methods course, we explored the research question: What happens to the commitments toward science instruction of pre-service elementary teachers when we help them view science instruction as an act of caring? Our findings suggest that for many, this approach helped students take a moral stance, articulate an ethical position regarding educational issues, and use these perspectives to inform decision-making at the instructional level.
Keywords
Ecology and Environmental Education,
Moral Education/Development,
Science Education
Publication Date
April 27, 2017
Citation Information
Grinell Smith and Colette Rabin. "Why Teach Science? Helping Teacher Candidates Frame Instructional Decision Making From Moral and Ethical Perspectives"
American Educational Research Association (AERA) Annual Meeting
(2017)
Available at: http://works.bepress.com/grinell_smith/16/