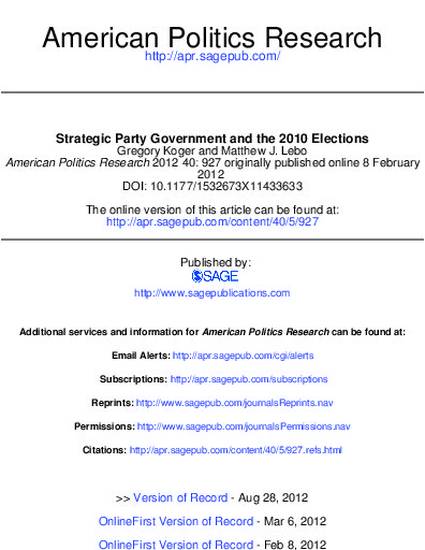 Article
Strategic Party Government and the 2010 Elections
American Politics Research (2012)
Abstract
This article applies the strategic parties framework to the 111th Congress and 2010 election results that followed. In 2009-2010, the Democrats pursued an ambitious agenda over the nearly unanimous opposition of Congressional Republicans, leading to a high level of partisanship on both sides. This partisanship was costly in the 2010 elections. Like other papers on this election, we find some evidence that key roll calls were linked to decreased electoral vote share. However, the clearer pattern is that overall patterns of partisanship had a consistent detrimental effect on incumbents running for reelection.
Keywords
2010 Elections,
Partisanship,
Obamacare,
Stimulus Spending,
ARRA,
Dodd-Frank Financial Reform Act,
Cap and Trade
Publication Date
September, 2012
Citation Information
Gregory Koger and Matthew Lebo. "Strategic Party Government and the 2010 Elections"
American Politics Research
Vol. 40 Iss. 5 (2012)
Available at: http://works.bepress.com/gregorykoger/15/