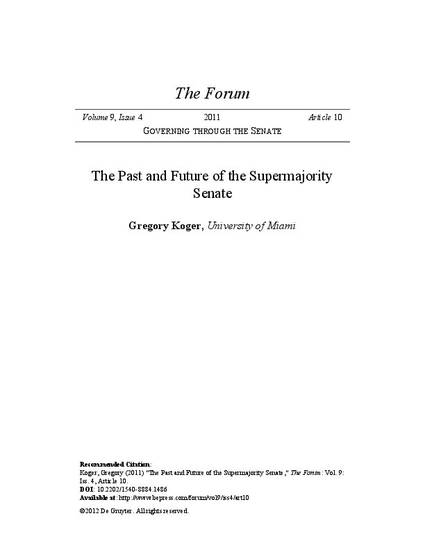 Article
The Past and Future of the Supermajority Senate
The Forum: : A Journal of Applied Research in Contemporary Politics (2011)
Abstract
The distinguishing feature of the modern U.S. Senate is the ability of any senator to block legislation and nominations, forcing the rest of the chamber to limit debate using a slow process that requires a 60-vote supermajority. This article explains the development of this new and powerful veto in the legislative process, its use as a minority party veto, and then reviews options for restoring the balance between governance and deliberation.
Publication Date
Winter 2011
Citation Information
Gregory Koger. "The Past and Future of the Supermajority Senate"
The Forum: : A Journal of Applied Research in Contemporary Politics
Vol. 9 Iss. 4 (2011)
Available at: http://works.bepress.com/gregorykoger/13/