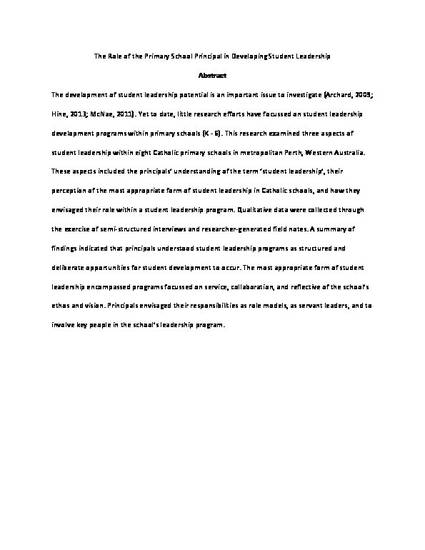 Article
The Role of the Primary School Principal in Developing Student Leadership
eJournal of Catholic Education in Australasia
Abstract
The development of student leadership potential is an important issue to investigate (Archard, 2009; Author, 2013; McNae, 2011). Yet to date, little research efforts have focussed on student leadership development programs within primary schools (K - 6). This research examined three aspects of student leadership within eight Catholic primary schools in metropolitan Perth, Western Australia. These aspects included the principals' understanding of the term 'student leadership', their perception of the most appropriate form of student leadership in Catholic schools, and how they envisaged their role within a student leadership program. Qualitative data were collected through the exercise of semi-structured interviews and researcher-generated field notes. A summary of findings indicated that principals understood student leadership programs as structured and deliberate opportunities for student development to occur. The most appropriate form of student leadership encompassed programs focussed on service, collaboration, and reflective of the school's ethos and charism. Principals envisaged their responsibilities as role models, as servant leaders, and to involve key people in the school's leadership program.
Citation Information
Gregory S.C. Hine and Shane D. Lavery. "The Role of the Primary School Principal in Developing Student Leadership"
Available at: http://works.bepress.com/gregory_hine/15/