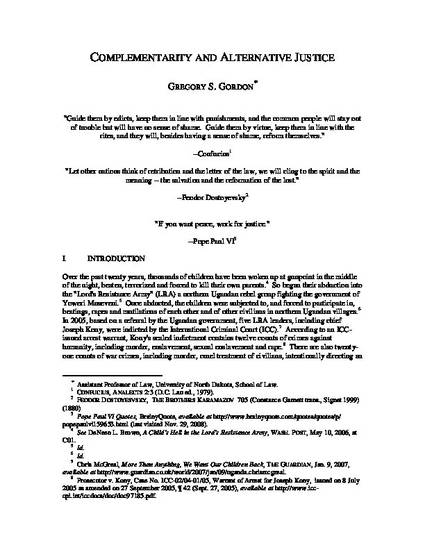 Unpublished Paper
COMPLEMENTARITY AND ALTERNATIVE JUSTICE
ExpressO (2009)
Abstract
Certain commentators believe that domestic resort to alternative justice mechanisms (ARMs), such as Uganda's "mato oput" (a local tribal rite) or truth commissions, can relieve the International Criminal Court of its obligation to prosecute under the complementarity principle. However, this literature provides only general suggestions for how the ICC could determine whether alternative mechanisms render a case inadmissible under the complementarity regime. This article proposes a concrete set of analytic criteria the ICC can use to formulate an admissibility test for conducting complementarity analysis in difficult cases of municipal reliance on ARMs. The admissibility test entails consideration and parsing of five categories: (1) the circumstances surrounding the ICC referral and request for deferral; (2) the political system and infrastructure in the domestic jurisdiction; (3) the ARM itself; (4) the crimes at issue; and (5) the prosecution target. The article then applies the test to the case of the ICC-indicted Ugandan Lord's Resistance Army (LRA) leaders and the ARMs recently proposed in the LRA-Uganda peace accord. The article will demonstrate that, although the Ugandan situation does not, some alternative justice proposals might pass the complementarity admissibility test. In the end, this analysis helps illuminate our increasingly complex understanding of the relationship between international criminal law and local initiatives in situations of gross human rights violations. Effective atrocity justice, the article contends, entails a proper division of labor between local restoration and global retribution. While complementarity could be the ideal medium through which to achieve that allocation, the proposed analytic criteria must be used to weave both peace and justice more seamlessly into the procedural fabric of international criminal law.
Keywords
complementarity,
international criminal court,
Rome Statute,
international criminal law,
atrocity law,
human rights law,
alternative justice,
restorative justice,
transitional justice,
truth commissions,
lustration,
reparations,
uganda,
Lord's Resistance Army,
Yoweri Museveni,
Joseph Kony,
mato oput,
genocide,
crimes against humanity,
war crimes
Publication Date
March 12, 2009
Citation Information
Gregory S. Gordon. "COMPLEMENTARITY AND ALTERNATIVE JUSTICE"
ExpressO
(2009)
Available at: http://works.bepress.com/gregory_gordon/5/