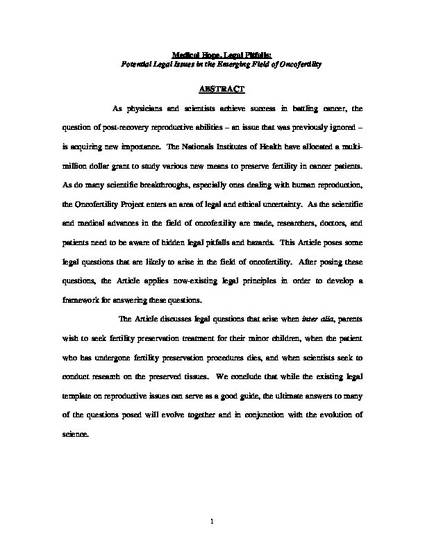 Unpublished Paper
Medical Hope, Legal Pitfalls: Potential Legal Issues in the Emerging Field of Oncofertility
ExpressO (2008)
Abstract
As physicians and scientists achieve success in battling cancer, the question of post-recovery reproductive abilities – an issue that was previously ignored – is acquiring new importance. The Nationals Institutes of Health have allocated a multi-million dollar grant to study various new means to preserve fertility in cancer patients. As do many scientific breakthroughs, especially ones dealing with human reproduction, the Oncofertility Project enters an area of legal and ethical uncertainty. As the scientific and medical advances in the field of oncofertility are made, researchers, doctors, and patients need to be aware of hidden legal pitfalls and hazards. This Article poses some legal questions that are likely to arise in the field of oncofertility. After posing these questions, the Article applies now-existing legal principles in order to develop a framework for answering these questions.
The Article discusses legal questions that arise when inter alia, parents wish to seek fertility preservation treatment for their minor children, when the patient who has undergone fertility preservation procedures dies, and when scientists seek to conduct research on the preserved tissues. We conclude that while the existing legal template on reproductive issues can serve as a good guide, the ultimate answers to many of the questions posed will evolve together and in conjunction with the evolution of science.
Keywords
Cancer,
Oncofertility,
Fertility Preservation,
minors,
Reproduction
Publication Date
September 29, 2008
Citation Information
Gregory Dolin, Dorothy E Roberts, Lina M Rodriguez and Teresa K Woodruff. "Medical Hope, Legal Pitfalls: Potential Legal Issues in the Emerging Field of Oncofertility"
ExpressO
(2008)
Available at: http://works.bepress.com/gregory_dolin/2/