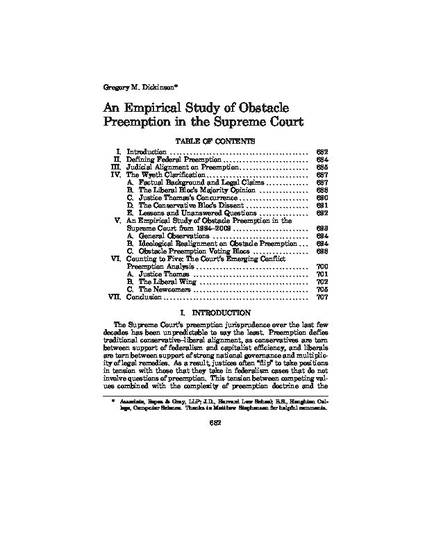 Article
An Empirical Study of Obstacle Preemption in the Supreme Court
Nebraska Law Review (2011)
Abstract
The Supreme Court's federal preemption decisions are notoriously unpredictable. Traditional left-right voting alignments break down in the face of competing ideological pulls. The breakdown of predictable voting blocs leaves the business interests most affected by federal preemption uncertain of the scope of potential liability to injured third parties and unsure even of whether state or federal law will be applied to future claims.
This empirical analysis of the Court's decisions over the last fifteen years sheds light on the Court's unique voting alignments in obstacle preemption cases. A surprising anti–obstacle preemption coalition is forming as Justice Thomas gradually positions himself alongside the Court's liberals to form a five-justice voting bloc opposing obstacle preemption.
Keywords
Preemption,
Obstacle,
Purposes and Objectives,
Conflict,
Impossibility,
Frustration-of-Purpose,
Implied,
Attitudinal,
Federalism
Citation Information
Gregory M Dickinson. "An Empirical Study of Obstacle Preemption in the Supreme Court"
Nebraska Law Review
Vol. 89 Iss. 4 (2011)
Available at: http://works.bepress.com/gregory_dickinson/5/