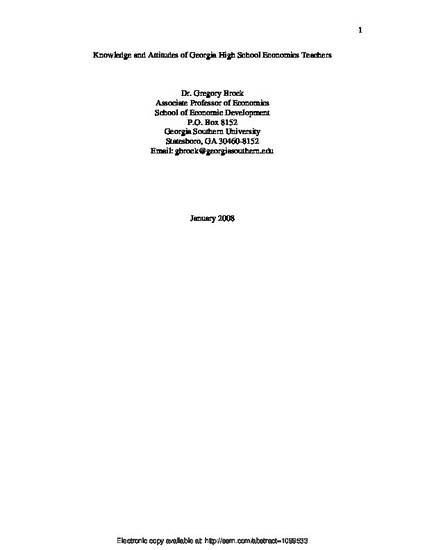 Unpublished Paper
Knowledge and Attitudes of Georgia High School Economics Teachers
Department of Finance and Economics Faculty Publications (2008)
Abstract
Using a unique large sample survey, the knowledge and attitudes of Georgia high school economics teachers towards economics is examined for the first time. Teachers are found to have a good knowledge of economics with perhaps more training needed in supply/demand analysis and monetary economics. A minority of teachers don't like economics and even the math that is needed to teach it. Teachers who recently took a university course or at least attended an economics education workshop are far more likely to like and be knowledgeable about economics.
Keywords
Georgia,
Economic Teachers,
High School
Publication Date
January 1, 2008
Citation Information
Gregory J Brock. "Knowledge and Attitudes of Georgia High School Economics Teachers"
Department of Finance and Economics Faculty Publications
(2008)
Available at: http://works.bepress.com/gregory_brock/63/