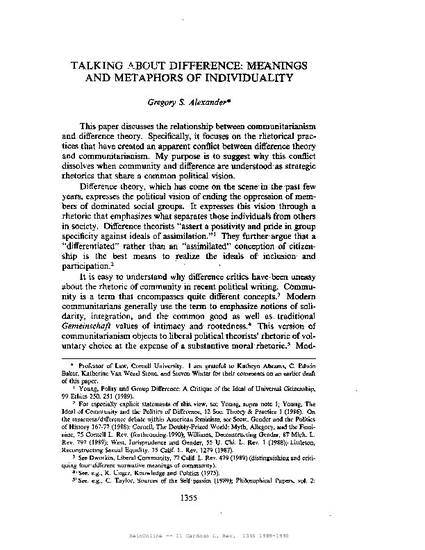 Article
Talking About Difference: Meanings and Metaphors of Individuality
Cornell Law Faculty Publications
Publication Date
8-1-1990
Keywords
Communitarianism,
Difference theory,
Particularism,
Social meanings of individuality,
Metaphors of individuality
Abstract
This paper discusses the relationship between communitarianism and difference theory. Specifically, it focuses on the rhetorical practices that have created an apparent conflict between difference theory and communitarianism. My purpose is to suggest why this conflict dissolves when community and difference are understood as strategic rhetorics that share a common political vision.
Publication Citation
Published in: Cardozo Law Review, vol. 11, nos. 5-6 (July-August 1990).
Citation Information
Gregory S. Alexander. "Talking About Difference: Meanings and Metaphors of Individuality" (1990)
Available at: http://works.bepress.com/gregory_alexander/15/