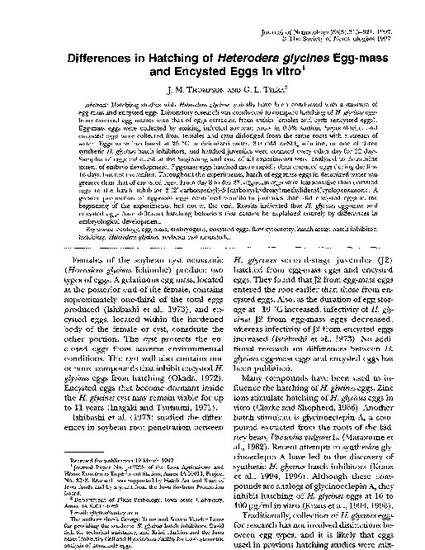 Article
Differences in Hatching of Heterodera glycines Egg-mass and Encysted Eggs in vitro
Journal of Nematology
Publication Version
Published Version
Publication Date
9-1-1997
Abstract
Hatching studies with Heterodera glycines typically have been conducted with a mixture of egg-mass and encysted eggs. Laboratory research was conducted to compare hatching of H. glycines eggs from external egg masses with that of eggs extracted from within females and cysts (encysted eggs). Egg-mass eggs were collected by soaking infected soybean roots in 0.5% sodium hypochlorite, and encysted eggs were collected from females and cysts dislodged from the same roots with a stream of water. Eggs were incubated at 25ºC in deionized water, 3.0 mM ZnSO[sub4]solution, or one of three synthetic H. glycines hatch inhibitors, mad hatched juveniles were counted every other day for 22 days. Samples of eggs collected at the beginning and end of all experiments were analyzed to determine extent of embryo development. Egg-mass eggs hatched more rapidly than encysted eggs during the first 16 days, but not thereafter. Throughout the experiments, hatch of egg-mass eggs in deionized water was greater than that of encysted eggs. From day 8 to day 22, egg-mass eggs were less sensitive than encysted eggs to the hatch inhibitor 2-(2'-carboxyethyl)-5-[carboxy(hydroxy)methylidenyl]cyclopentanone. A greater proportion of egg-mass eggs contained vermiform juveniles than did encysted eggs at the beginning of the experiments, but not at the end. Results indicated that H. glycines egg-mass and encysted eggs have different hatching behaviors that cannot be explained entirely by differences in embryological development. Key words: ecology, egg mass, embryogeny, encysted eggs, flow cytometry, hatch assay, hatch inhibitor, hatching, Heterodera glycines, soybean cyst nematode.
Copyright Owner
The Society of Nematologists
File Format
application/pdf
Citation Information
J. M. Thompson and G. L. Tylka. "Differences in Hatching of Heterodera glycines Egg-mass and Encysted Eggs in vitro"
Journal of Nematology
Vol. 29 Iss. 3 (1997) p. 315 - 321
Available at: http://works.bepress.com/gregory-tylka/194/