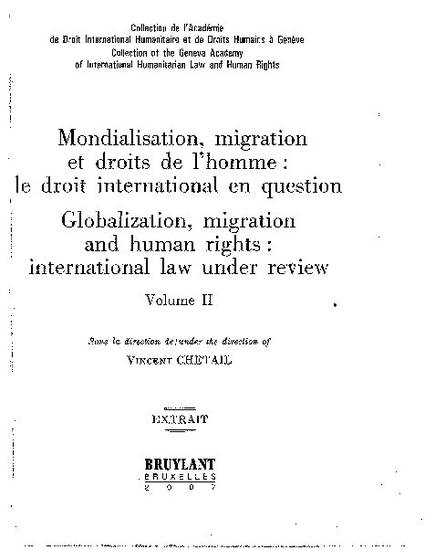 Contribution to Book
The Insecurity of Trafficking in International Law
Mondialisation, migration et droits de l'homme: le droit international en question (2007)
Abstract
The present chapter inquires into to the definition of trafficking in the 2000 Trafficking Protocol. The concept of trafficking seems to offer a self-evident point of departure to broach inequality and migration in the international domain. It emphasises the inequality between trafficker and the trafficked person, and States task themselves to side with the latter - and weaker - party in that relationship. Other dimensions of inequality, as that between migrants and States, are removed from the limelight of trafficking language. Trafficking of human beings is distinct from human smuggling: while trafficking is about non-consensual and exploitative relations between the migrant and a trafficker, smuggling is based on a consensus amongst the parties involved in an illegal border transgression. The chapter shall explore in detail how the concept of trafficking is constructed in instruments of international law. A particular focus will be on the use of human rights to legitimize the trafficking concept. My intention is to show that this use is selective.
Keywords
trafficking,
exploitation,
slavery,
human rights
Editor
V. Chetail, M. Carlos-Tschopp
Citation Information
Gregor Noll. "The Insecurity of Trafficking in International Law"
Mondialisation, migration et droits de l'homme: le droit international en question
Vol. II (2007)
Available at: http://works.bepress.com/gregor_noll/8/