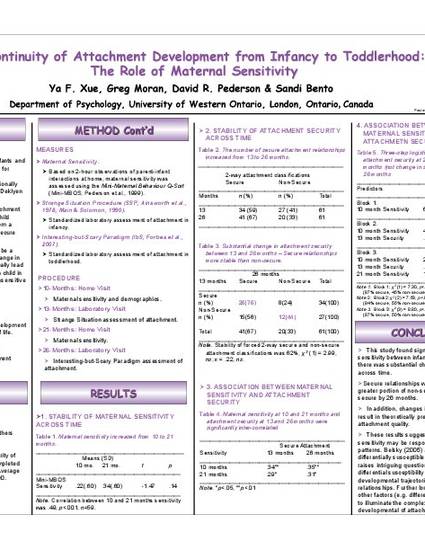 Presentation
The Continuity of Attachment Development from Infancy to Toddlerhood: The Role of Maternal Sensitivity
Psychology Presentations
Document Type
Presentation
Publication Date
3-1-2010
Abstract
The patterns of attachment between infants and mothers have far-reaching consequences for infants' development; infants with secure attachments fare better socially and emotionally than those with non-secure attachments (Deklyen & Greenberg,2008).
Theory suggests that differences in attachment quality result from differences in mother-child interactions: secure attachment results from a history of sensitive interactions and non-secure attachment from insensitive interaction.
Since the attachment security is held to be a product of the quality of interactions; a change in the quality of interactions should theoretically lead to a change in attachment quality. Thus, a child in a secure relationship later encountering insensitive care should tend towards a non-secure relationship, and vice versa.
Citation Information
Ya F. Xue, Greg Moran, David R. Pederson and Sandi Bento. "The Continuity of Attachment Development from Infancy to Toddlerhood: The Role of Maternal Sensitivity" (2010)
Available at: http://works.bepress.com/gregmoran/96/