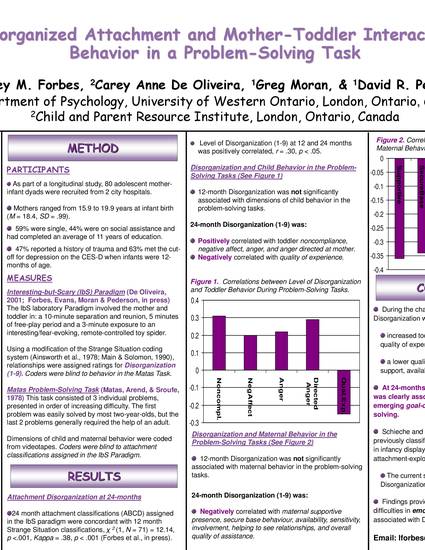 Presentation
Disorganized Attachment and Mother-Toddler Interactive Behavior in a Problem-Solving Task
Psychology Presentations
Document Type
Presentation
Publication Date
3-1-2007
Abstract
PURPOSE: To examine emotional and behavioral regulation and Disorganized attachment at 24-months in a high-risk sample of adolescent mother-toddler dyads.
RESULTS: Disorganization was associated with 1)increased toddler negativity and a lower quality of experience and 2)decreased levels of maternal support and assistance during the problem-solving tasks.
CONCLUSION: These findings offer converging support for the suggestion that Disorganized dyads experience marked difficulties in emotional and behavioral regulation.
Citation Information
Lindsey M. Forbes, Carey Anne De Oliveira, Greg Moran and David R. Pederson. "Disorganized Attachment and Mother-Toddler Interactive Behavior in a Problem-Solving Task" (2007)
Available at: http://works.bepress.com/gregmoran/36/