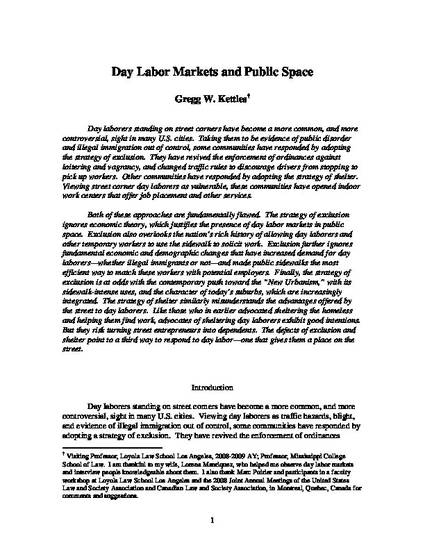 Unpublished Paper
Day Labor Markets and Public Space
ExpressO (2009)
Abstract
Day laborers standing on street corners have become a more common, and more controversial, sight in many U.S. cities. Taking them to be evidence of public disorder and illegal immigration out of control, some communities have responded by adopting the strategy of exclusion. They have revived the enforcement of ordinances against loitering and vagrancy, and changed traffic rules to discourage drivers from stopping to pick up workers. Other communities have responded by adopting the strategy of shelter. Viewing street corner day laborers as vulnerable, these communities have opened indoor work centers that offer job placement and other services. Both of these approaches are fundamentally flawed. The strategy of exclusion ignores economic theory, which justifies the presence of day labor markets in public space. Exclusion also overlooks the nation's rich history of allowing day laborers and other temporary workers to use the sidewalk to solicit work. Exclusion further ignores fundamental economic and demographic changes that have increased demand for day laborers—whether illegal immigrants or not—and made public sidewalks the most efficient way to match these workers with potential employers. Finally, the strategy of exclusion is at odds with the contemporary push toward the "New Urbanism," with its sidewalk-intense uses, and the character of today's suburbs, which are increasingly integrated. The strategy of shelter similarly misunderstands the advantages offered by the street to day laborers. Like those who in earlier advocated sheltering the homeless and helping them find work, advocates of sheltering day laborers exhibit good intentions. But they risk turning street entrepreneurs into dependents. The defects of exclusion and shelter point to a third way to respond to day labor—one that gives them a place on the street.
Keywords
public space,
public markets,
sidewalks,
immigration,
labor
Publication Date
February 16, 2009
Citation Information
Gregg Kettles. "Day Labor Markets and Public Space"
ExpressO
(2009)
Available at: http://works.bepress.com/gregg_kettles/1/