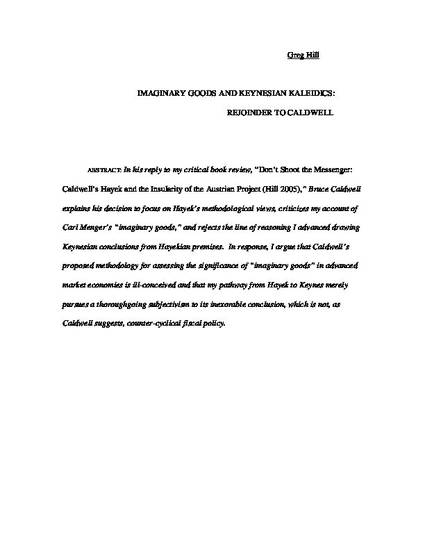 Article
IMAGINARY GOODS AND KEYNESIAN KALEIDICS: REJOINDER TO BRUCE CALDWELL
Critical Review (2006)
Abstract
In his reply to my critical book review, "Don't Shoot the Messenger: Caldwell's Hayek and the Insularity of the Austrian Project (Hill 2005)," Bruce Caldwell explains his decision to focus on Hayek's methodological views, criticizes my account of Carl Menger's "imaginary goods," and rejects the line of reasoning I advanced drawing Keynesian conclusions from Hayekian premises. In response, I argue that Caldwell's proposed methodology for assessing the significance of "imaginary goods" in advanced market economies is ill-conceived and that my pathway from Hayek to Keynes merely pursues a thoroughgoing subjectivism to its inexorable conclusion, which is not, as Caldwell suggests, counter-cyclical fiscal policy.
Citation Information
Greg Hill. "IMAGINARY GOODS AND KEYNESIAN KALEIDICS: REJOINDER TO BRUCE CALDWELL"
Critical Review
Vol. 18 Iss. 4 (2006)
Available at: http://works.bepress.com/greg_hill/6/