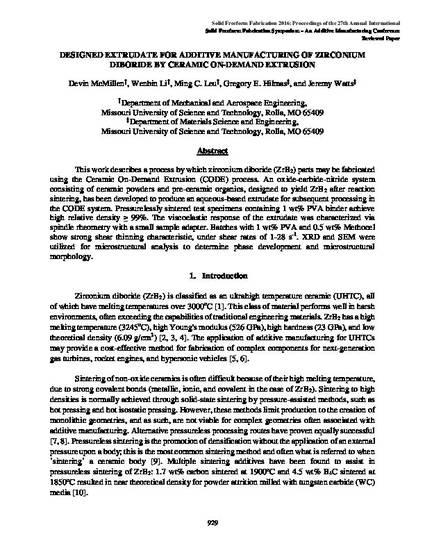 Article
Designed Extrudate for Additive Manufacturing of Zirconium Diboride by Ceramic On-Demand Extrusion
Solid Freeform Fabrication 2016
Abstract
This work describes a process by which zirconium diboride (ZrB2) parts may be fabricated using the Ceramic On-Demand Extrusion (CODE) process. An oxide-carbide-nitride system consisting of ceramic powders and pre-ceramic organics, designed to yield ZrB2 after reaction sintering, has been developed to produce an aqueous-based extrudate for subsequent processing in the CODE system. Pressurelessly sintered test specimens containing 1 wt% PVA binder achieve high relative density ≥ 99%. The viscoelastic response of the extrudate was characterized via spindle rheometry with a small sample adapter. Batches with 1 wt% PVA and 0.5 wt% Methocel show strong shear thinning characteristic, under shear rates of 1-28 s-1. XRD and SEM were utilized for microstructural analysis to determine phase development and microstructural morphology.
Meeting Name
27th Annual International Solid Freeform Fabrication Symposium -- An Additive Manufacturing Conference (2016: Aug. 8-10, Austin, TX)
Department(s)
Mechanical and Aerospace Engineering
Second Department
Materials Science and Engineering
Research Center/Lab(s)
Intelligent Systems Center
Document Type
Article - Conference proceedings
Document Version
Final Version
Publication Date
8-10-2016
Citation Information
Devin McMillen, Wenbin Li, Ming-Chuan Leu, Greg Hilmas, et al.. "Designed Extrudate for Additive Manufacturing of Zirconium Diboride by Ceramic On-Demand Extrusion"
Solid Freeform Fabrication 2016
(2016) p. 929 - 938
Available at: http://works.bepress.com/greg-hilmas/229/