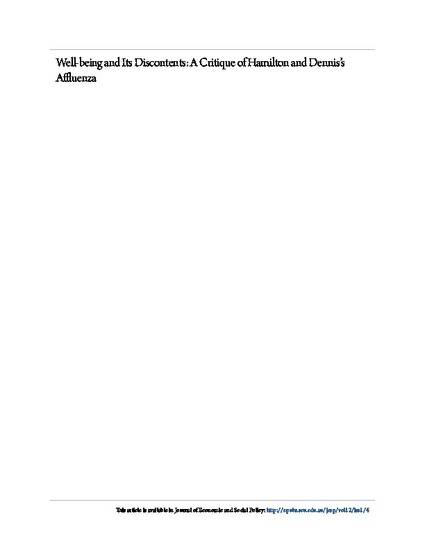 Article
Well-being and its discontents: a critique of Hamilton and Dennis' Affluenza
Journal of Economic and Social Policy
Publication Date
1-1-2007
Peer Reviewed
Peer-Reviewed
Abstract
This article develops a critique of Hamilton and Dennis's book Affluenza. In recognising many of the strengths of the book in terms of its focus on Australia's consumerist culture, the article nonetheless outlines a range of significant shortcomings in its argument, not least the tendency to overstate the prevalence of consumerist values, the narrow interpretation of what constitutes 'consumerism', the flawed assumptions over marketing, savings and 'downsizing', and the range of culturally loaded assumptions that underpin the text. In asserting that affluence rather than poverty is the main issue in Australia, Hamilton and Dennis tend to sweep aside deep and prolonged inequities that are characteristic of contemporary Australian society.
Citation Information
Hil, R & Cairncross, G 2007, 'Well-being and its discontents: a critique of Hamilton and Dennis' Affluenza', Journal of Economic and Social Policy, vol. 12, no. 1, pp. 69-84.
Published version available from: