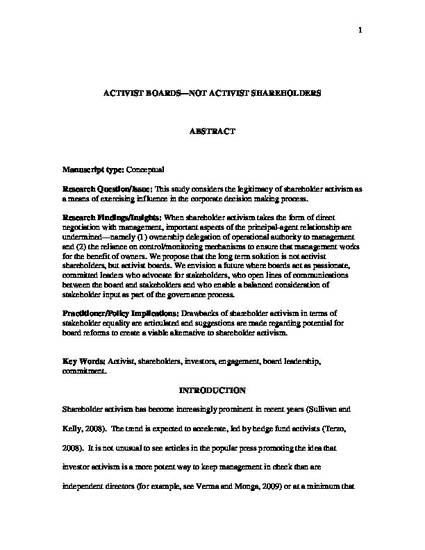 Unpublished Paper
Activist Boards - Not Activist Shareholders
Paper for journal submission 2010 (2010)
Abstract
Manuscript type: Conceptual
Research Question/Issue: This study considers the legitimacy of shareholder activism as a means of exercising influence in the corporate decision making process.
Research Findings/Insights: When shareholder activism takes the form of direct negotiation with management, important aspects of the principal-agent relationship are undermined—namely (1) ownership delegation of operational authority to management and (2) the reliance on control/monitoring mechanisms to ensure that management works for the benefit of owners. We propose that the long term solution is not activist shareholders, but activist boards. We envision a future where boards act as passionate, committed leaders who advocate for stakeholders, who open lines of communications between the board and stakeholders and who enable a balanced consideration of stakeholder input as part of the governance process.
Practitioner/Policy Implications: Drawbacks of shareholder activism in terms of stakeholder equality are articulated and suggestions are made regarding potential for board reforms to create a viable alternative to shareholder activism.
Keywords
Board leadership,
engagement,
shareholders,
commitment
Citation Information
Graeme Cocks, Jens Mueller, Coral Ingley and Morina Rennie. "Activist Boards - Not Activist Shareholders"
Paper for journal submission 2010
(2010)
Available at: http://works.bepress.com/graeme_cocks/9/