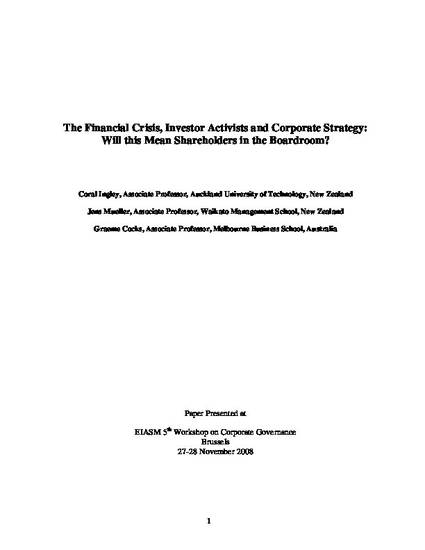 Article
The Financial Crisis, Investor Activists and Corporate Strategy: Will this Mean Shareholders in the Boardroom?
Journal of Management and Governance (accepted) (2009)
Abstract
The concept of stakeholder engagement is gaining increasing attention in the mainstream media and may feature as part of a corporation's strategy for corporate social responsibility. Not only are boards considering how they might engage with key stakeholders, but stakeholders are also pursuing greater participation in the strategic decisions of companies in which they invest. While this is an emerging concept in companies governed by unitary boards, as in North America, the issue of stakeholder engagement in various forms is also entering debate in other countries around the world. In general, however, the idea of shareholder or stakeholder representation on the boards of most UK and Commonwealth companies is anathema. Forces now influencing the development of strategies for stakeholder engagement and the rise of active investors include changing corporate governance rules which give investors more power in the election of directors, the increasing role of pension plans and hedge fund investment groups which have produced investors who keep a close eye on company performance and value, and a sluggish or turbulent stock market as a result of the financial crisis initiated by the credit crunch in the sub-prime mortgage markets. In this paper the phenomenon of stakeholder representation is examined and results of a recent survey conducted among a large sample of New Zealand directors are presented. The findings suggest that these traditionally-oriented boards are increasingly inwardly focused and are without an agenda for building and managing shareholder and stakeholder relations. Accordingly, such boards are unlikely to regard stakeholder engagement as a serious strategic issue and are thus also likely to miss significant opportunities in the changed business environment to benefit from stakeholder support.
Keywords
Stakeholder Engagement,
Shareholder Activism,
Governance
Citation Information
Graeme Cocks, Jens Mueller and Coral Ingley. "The Financial Crisis, Investor Activists and Corporate Strategy: Will this Mean Shareholders in the Boardroom?"
Journal of Management and Governance (accepted)
(2009)
Available at: http://works.bepress.com/graeme_cocks/7/