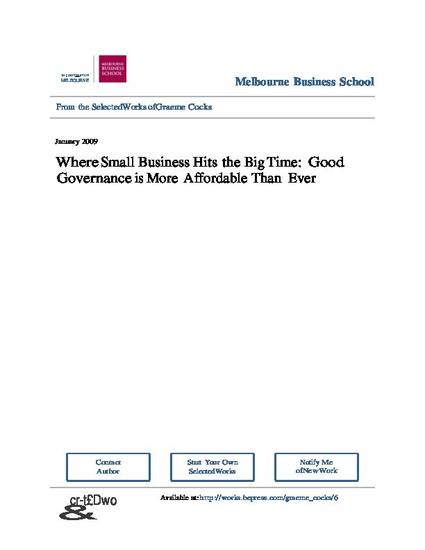 Article
Where Small Business Hits the Big Time: Good Governance is More Affordable Than Ever
Small Enterprise Association of Australia and New Zealand (2009)
Abstract
Small and mid-size firms more often than not fill board seats with executive directors, mostly representing founders and operators of the business. While we observe a clear trend towards the addition of independent directors, the perceptions of cost and lack of contribution appear to be hurdles for smaller business when it comes to the strengthening of their boards. Based on four consecutive annual reviews of governance in NZ, with a special emphasis on SMEs, we suggest that shareholders and senior managers of SMEs are beginning to understand that external directors do add value - and are a lot less expensive than previously thought.
While Fama and Jensen (1983) argued that separation of ownership and control leads to agency issues, clearly perceived by many owner/operators as a dilution of their control over the firm, we know that independent directors are important for an effective balance of a board (Rezaee, 2009), and thus we attempt to describe practically relevant factors that support the inclusion of outside directors on SME boards.
Our research shows that current SME boards lack key skills expected from board members and that the majority of director roles are filled through a tight circle of insiders, mostly existing board members and management. We doubt that these OEfriends of friends¹ are as inquisitive, asking insistent questions, as required (Newcomb (2006). We also demonstrate that compensation, an often cited hurdle to appoint external directors, is not a key motivation for new board members. In fact, compensation ranks among the least-important motivators when directors contemplate new board invitations.
We conclude that there is clear evidence that SME boards need in infusion of stronger skills, and that this will be a less costly exercise than presumed by many. We remain cautious, however, over the emotive issues when outside directors are given voting rights in owner-operated and family-held firms, and suggest that more education is needed for existing shareholders and SME executives to better understand the value proposition for external directors.
Publication Date
January, 2009
Citation Information
Graeme Cocks. "Where Small Business Hits the Big Time: Good Governance is More Affordable Than Ever"
Small Enterprise Association of Australia and New Zealand
(2009)
Available at: http://works.bepress.com/graeme_cocks/29/