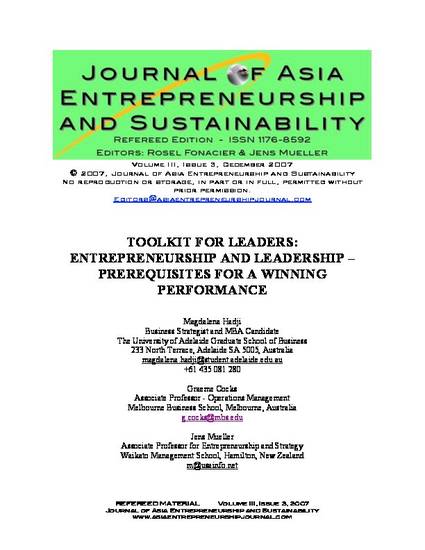 Article
Entrepreneurship and Leadership - Prerequisites for a Winning Organisation
Journal of Asia Entrepreneurship and Sustainability (2008)
Abstract
Effective leaders strive to attract and develop the right people with the right attitude in the right positions aligned to their organizational strategy. From this premise, we identify a driver of winning performance created by developing future leaders from within and at all levels of the organization in an effort to produce a self-sustaining leadership culture and team. We speculate that the addition of an entrepreneurial culture to this leadership domain will create superior organizational performance. Entrepreneurship and leadership performance are contrasted on the basis of current literature and empirical evidence gained from assessments of high performing organizations over the long term. Connected elements are uncovered: the role of leadership at Macquarie Bank is "to create an environment that is supportive of entrepreneurs" (Hubbard, Samuel, Cocks, Heap, 2007:145). In Search of Excellence denotes 'autonomy and entrepreneurship' as one of the eight attributes that characterize their excellent, innovative companies (Peters and Waterman, 2004:13–14). Good to Great prescribe that "when you combine a culture of discipline with an ethic of entrepreneurship, you get the magical alchemy of great performance" (Collins, 2001:13). We find empirical evidence links the ability to inspire and cultivate entrepreneurial qualities with leadership to generate organizational success. We now question what leadership and entrepreneurial qualities will be needed to create an organization that is able to effectively execute its corporate strategies – resulting in the development of a core competence to rapidly adapt to changes in its external environment, whilst responding to the need for fluid and dynamic business strategies.
Keywords
Entrepreneurship,
Business Excellence,
Leadership
Citation Information
Graeme Cocks, Jens Mueller and Magdalena Hadji. "Entrepreneurship and Leadership - Prerequisites for a Winning Organisation"
Journal of Asia Entrepreneurship and Sustainability
Vol. 3 Iss. 3 (2008)
Available at: http://works.bepress.com/graeme_cocks/17/