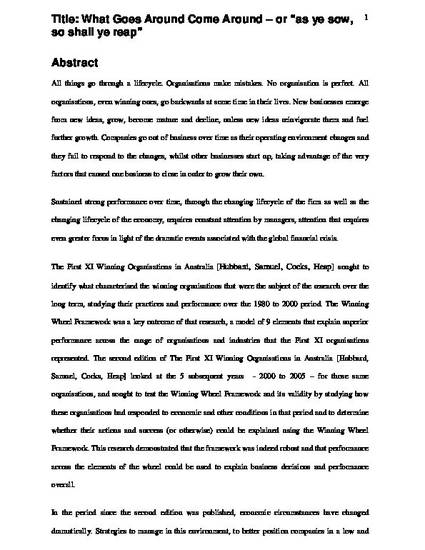 Unpublished Paper
Changing Times and the Organisational Life Cycle
Planned Conference Paper (2010)
Abstract
All things go through a lifecycle. Organisations make mistakes. No organisation is perfect. All organisations, even winning ones, go backwards at some time in their lives. New businesses emerge from new ideas, grow, become mature and decline, unless new ideas reinvigorate them and fuel further growth. Companies go out of business over time as their operating environment changes and they fail to respond to the changes, whilst other businesses start up, taking advantage of the very factors that caused one business to close in order to grow their own. Sustained strong performance over time, through the changing lifecycle of the firm as well as the changing lifecycle of the economy, requires constant attention by managers, attention that requires even greater focus in light of the dramatic events associated with the global financial crisis. The First XI Winning Organisations in Australia [Hubbard, Samuel, Cocks, Heap] sought to identify what characterised the winning organisations that were the subject of the research over the long term, studying their practices and performance over the 1980 to 2000 period. The Winning Wheel Framework was a key outcome of that research, a model of 9 elements that explain superior performance across the range of organisations and industries that the First XI organisations represented. The second edition of The First XI Winning Organisations in Australia [Hubbard, Samuel, Cocks, Heap] looked at the 5 subsequent years - 2000 to 2005 – for those same organisations, and sought to test the Winning Wheel Framework and its validity by studying how these organisations had responded to economic and other conditions in that period and to determine whether their actions and success (or otherwise) could be explained using the Winning Wheel Framework. This research demonstrated that the framework was indeed robust and that performance across the elements of the wheel could be used to explain business decisions and performance overall. In the period since the second edition was published, economic circumstances have changed dramatically. Strategies to manage in this environment, to better position companies in a low and even negative growth environment, are critical to ensure that companies are well positioned to be able to take advantage of the opportunities for growth that will inevitably be available as the Australian and world economy reorganises. This paper presents the Winning Wheel Framework as a tool for organizations to use to position for future growth and success. Developed from research specifically about organizations and winning in the Australian context, the Framework provides an integrated model to examine an organisation or business unit's performance and agree priorities for action that will position them to win in times of future growth, because inevitably "what goes around comes around". Organizations that invest in planning for future growth in today's economic climate are more likely to emerge leaner and stronger that those do nothing – "as ye sow, so shall ye reap" [New Testament].
Keywords
Organisational Life Cycle,
winning organisations,
sustainable performance
Citation Information
Graeme Cocks and Delyth Samuel. "Changing Times and the Organisational Life Cycle"
Planned Conference Paper
(2010)
Available at: http://works.bepress.com/graeme_cocks/15/