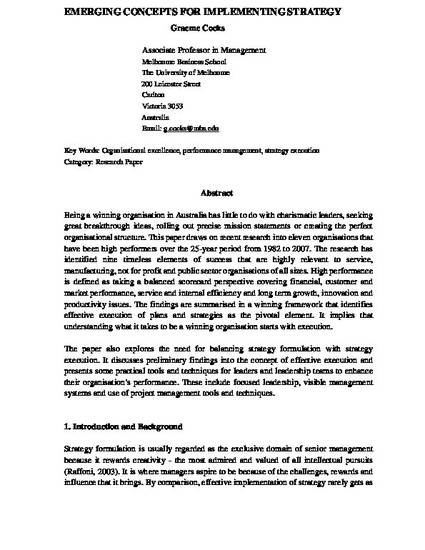 Presentation
Emerging Concepts for Implementing Strategy
Quality Management and Organisational Development / International Conference on Quality and Service Sciences (2009)
Abstract
Being a winning organisation in Australia has little to do with charismatic leaders, seeking great breakthrough ideas, rolling out precise mission statements or creating the perfect organisational structure. This paper draws on recent research into eleven organisations that have been high performers over the 25-year period from 1982 to 2007. The research has identified nine timeless elements of success that are highly relevant to service, manufacturing, not for profit and public sector organisations of all sizes. High performance is defined as taking a balanced scorecard perspective covering financial, customer and market performance, service and internal efficiency and long term growth, innovation and productivity issues. The findings are summarised in a winning framework that identifies effective execution of plans and strategies as the pivotal element. It implies that understanding what it takes to be a winning organisation starts with execution.
The paper also explores the need for balancing strategy formulation with strategy execution. It discusses preliminary findings into the concept of effective execution and presents some practical tools and techniques for leaders and leadership teams to enhance their organisation's performance. These include focused leadership, visible management systems and use of project management tools and techniques.
Keywords
Strategy Implemenation,
Business Excellence
Citation Information
Graeme Cocks. "Emerging Concepts for Implementing Strategy"
Quality Management and Organisational Development / International Conference on Quality and Service Sciences
(2009)
Available at: http://works.bepress.com/graeme_cocks/12/